Johnny Pump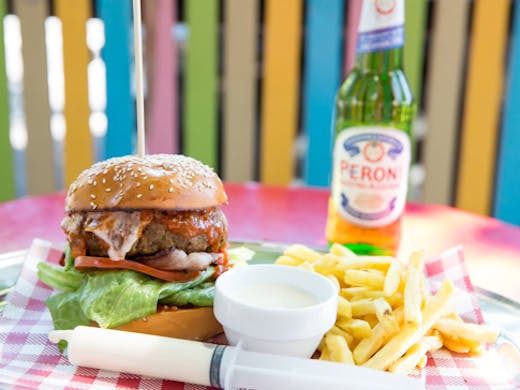 The Verdict
If you live anywhere near Essendon, chances are good you've been to Johnny Pump, the unofficial home of OTT freakshakes and downtown NYC vibes.
Some background. Johnny Pump is American slang for a fire hydrant, and there happens to be one right outside the restaurant, on Fletcher St. The fire station theme flows through the venue, with little nods to Manhattan fire trucks dotted around.
It's easy to miss them though—and that's because your eye is caught by the frankly OUTRAGEOUS dessert shakes that come whooshing over the pass. Johnny Pump pretty much built its rep on these things (you need a fire ladder just to climb to the top). A lot of places claim to have started the freakshake trend, but trust us: these guys were the OGs.
Our pick? It's gotta be the wild berry and white chocolate cheesecake shake, spooned with blackberries and syrup. It'll set you back 17 weeks of F45 progress, but who the hell cares. It's one of the best damn shakes in the whole city.
The other half of the Johnny Pump legend are the burgers. $16 bucks a pop and ranging from Southern-fried chicken with roast capsicum, slaw and garlic aioli to old-school Black Angus with dill pickles, cheese, egg and BBQ sauce. They're halfway between your fish n' chippery-style burgers and a new-age brioche construction. Big and bold and totally delicious.
You'll spot Johnny Pump from a mile away. Most of the time there's a queue of hungry diners waiting to get a crack at the dessert shakes (rumour has it they keep dozens and dozens of giant Nutella tubs on stand-by, in case supplies run low).
Next time you're in Essendon, add these guys to the list. Just undo you top button first...
Image credit: Supplied
---