Johnny Ripe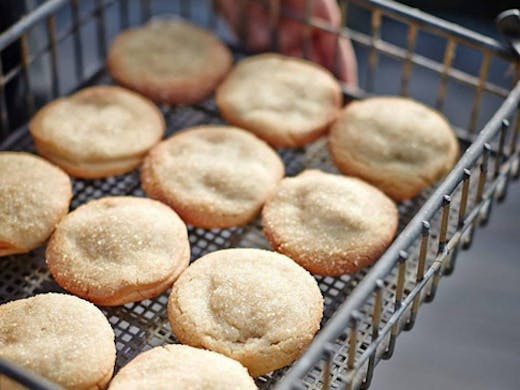 The Verdict
When you're cruising down the beach this summer and those buttery, sugary cravings kick in after a solid stint in the salty seas—you'd be mad not to head up to Johnny Ripe.
Johnny Ripe is a bakery tucked away in Red Hill on the Mornington Peninsula and their produce driven goodies guarantees some seriously tasty treats with a whole lotta love.
The bakery has a farm-to-café approach ensuring everything that goes in is the good stuff. The artisanal bakers are equipped with their very own apple orchard which they use to whip up their signature apple pie (it's literally the most buttery goodie that we've wrapped our laughing gear around). The store itself is reasonably stripped back (who cares when the treats won't last past the door?!), dishing up a wide range of sweet treats including the Crème Brule Cronut (aka the love child of a croissant and donut) danishes, vanilla slices, friands, chocolate beetroot brownies, and banana bread.

On the savoury front, there are beef pies, sausage rolls, and lasagnas. The store also offers a wide range of homestyle sauces and chutneys that are ripper addition to any meal. Another huge must do is the croissants, which stand out with their whopping size and ridiculously soft texture. Pair it with a little caffeine action to get french chic, and a touch of sun and you're in for one classic set up.
Image credit: Johnny Ripe
---