Johnny's Green Room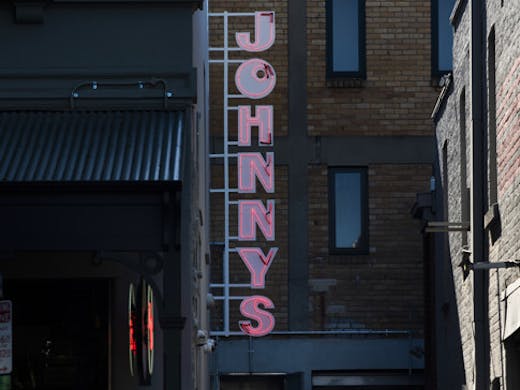 The Verdict
Johnny's Green Room is back in full swing and ready to grace your eyeballs with a magnificent view that reaches from the Carlton end of Lygon Street all the way to the city.
Johnny's Green Room is the missing piece of the Carlton puzzle: a stunning rooftop bar for after-dinner drinks or even a well-deserved afternoon snack. While there are some late-night staples (Carlton Wine Room, Heartattack & Vine) in the area, Johnny's Green Room now offers Carltonites a go-to rooftop hangout that doesn't involve trekking all the way to Fitzroy.
The decorative goal is obvious: make Johnny's Green Room look and feel like you're sipping on negronis (or spritz, or house Rosato, or imported beer on tap) on a rooftop in Rome. The vibe is relaxed but still Carlton-chic, with crisp-looking floor tiles and plenty of comfy seating.
There are plenty of modern Italian-inspired snacks to snack on while admiring the view: mouth-watering arancini balls, beef crostini, cacio pepe, cured meats, mozzarella, pickles and bread, and more. Larger dishes will also be available over lunch and dinner (think pork-and-fennel sausage rolls, Johnny's burger, or the original Johnny's rigatoni Pomodoro).
Also, for those with a sweet tooth, I have three words for you: Pidapipo choc tops.
Johnny's Green Room officially opens Saturday 8 December 2018 and will be open from noon till late, 7 days a week. So whether you're a resident or a passer-by, it's time you ditch your fave rooftop hang and visit Johnny's Green Room for some renowned Carlton hospitality.
Image credit: supplied
---