Juanito's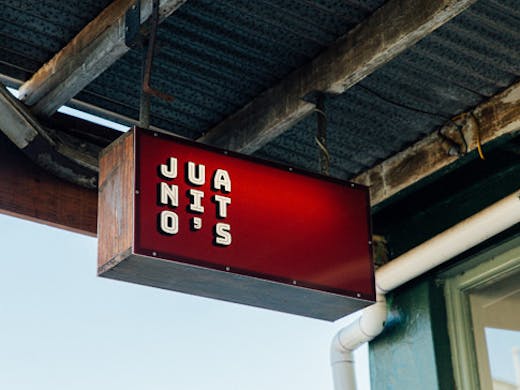 The Verdict
It's no secret that when you forget to pack your lunch for work or uni, it can be a serious struggle to find a simple sandwich shop that's tasty and affordable. Enter Juanito's—conveniently located in Brunswick, Juanito's is a small, simple cafe that is doing everything right.
Step into the tiny Albert Street venue to start your morning off right with a warm, gooey toastie. Or, if you're looking for a lunchtime feed, a pastrami roll. And even though Juanito's pastrami roll might look basic, you'll be hard-pressed to find a tastier sandwich this side of town.
"The perfect sandwich starts with the bread," says owner Juan Burgos. "From there we add the sweet tangy mayo that we make every day. After that, it's just making rolls to order using the freshest locally sourced ingredients."
Juanito's sweet tangy mayo is really something else. No wonder the recipe is top secret; people would probably buy it in bulk if they could. Besides the toasties and rolls, Juanito's also serves up great sweets from Northcote Bake Shop and coffee from Melbourne-based roasters Beat Coffee.
A nice escape from every second shop in Melbourne that is trying to find the next coolest or most extravagant dish, Juanito's is the place to go if you want a simple, delicious and friendly experience. "We're just a small, friendly cafe that's not pretentious and has a great community vibe," says Juan. We're all about it.
Image credit: Annika Kafcaloudis
---