K-Kore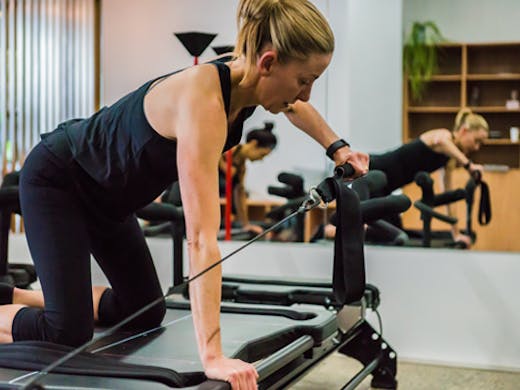 The Verdict
Tried F45? HIT classes making you want to cry? Just about ready to throw your drink bottle at your relentlessly-cheerful spin instructor? We feel your pain. And so does K-Kore, Melbourne's latest fitness trend.
K-Kore specialises in Lagree fitness, a calorie-burning workout style developed for celebrities in California by exercise guru Sebastien Lagree. Instead of breaking a workout into different muscle groups, or isolating various parts of the body, Lagree uses a machine called a 'Megaformer' (stay with us) to work your core, burn fat and build lean, no-bulk muscle. It even jump-starts your metabolism.
The movement has been gaining serious traction in the States, where people are opting for a more lean, toned look, rather than sculpted muscle and bulging biceps. K-Kore is its first dedicated gym space in Melbourne.
It's run by certified instructor Kylie Archer, who fell in love with Lagree while training and living in Hong Kong.
"When we decided to return to Melbourne this year, I hated the thought of stopping my Lagree fitness training," Kylie says. "There were no Lagree Fitness studios in Melbourne and most Melburnians hadn't heard about it. Not yet anyway."
Kylie and her trainers have put together a range of classes, suitable for anyone, whether you're a Lagree pro or you've never heard of a Megaformer in your life. Start with the basic 'Megakore' class, a series of planks, twists, pikes, lunges and crunches, all done with a slow, controlled movement. Fitness addicts can step it up with a Megakore Burn session: 60-minutes of Lagree hell where you'll probably burn more calories than a KFC Double Down Meal (Google it and weep).
You can also tee up a private session with the K-Kore trainers, if the idea of sweating through your lycra in public doesn't appeal. Either way, this thing's gonna make a splash in Port Melbourne. Lulu Lemon and well-formed trapezius muscles are practically obligatory on Bay St.
Image credit: K-Kore
---