Karton Milk Bar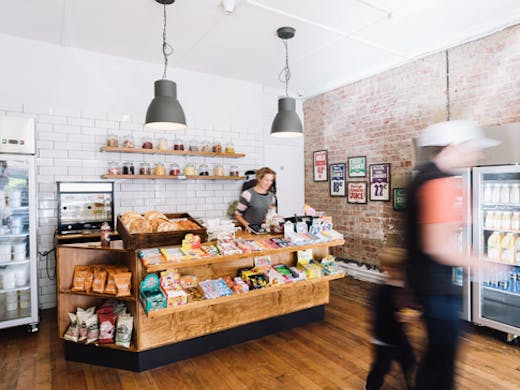 The Verdict
Anyone who grew up in a decade that began with 19– got to experience something pretty magical: the humble, suburban milk bar. These places weren't glamorous. They served cheap Paul's milk, sketchy hot dog rotisseries and month-old Redskins that'd pop the braces right off your teeth. But they somehow became musty little community centres. People actually cared about them. So it's kinda nice to walk into Karton, a modern-day spin on the now-defunct milk bar model, and feel that familiar old-school sugar rush.
Karton is the latest venture from Clinton and Karina Serex, the guys behind Tuck Shop Take Away (just a few doors down), and just like Tuck Shop, this place doesn't trade on gimmicks. Nearly everything is cooked in-house, from tomato and chilli sauce to potato chips. They've even got tubs of homemade hot cross bun ice-cream chilling in the freezer section. It's retro, sure, but not in an annoying way. If you come out of there with nothing else, you have to try the flavoured milks, made from scratch in a range of nostalgic flavours.
Like any good milk bar, Karton doesn't limit itself to meals. It also stocks pantry staples. White bread and croissants come courtesy of Noisette (a definite upgrade from the days of Tip Top and Wonder White), and there's eggs, milk, popcorn, slurpees, chips and pick n' mix, if you're after a little smackerel. Clinton and Karina want the store to become a bit of a community hub, like the milk bars of old. A place you come to pick up supplies, have a chin wag and moan about the crappy Melbourne weather. It's a cool vision, and our inner 90s child is cheering them on big-time. Shotgun the NBA Jam.
Image credit: Griffin Simm
---