Katori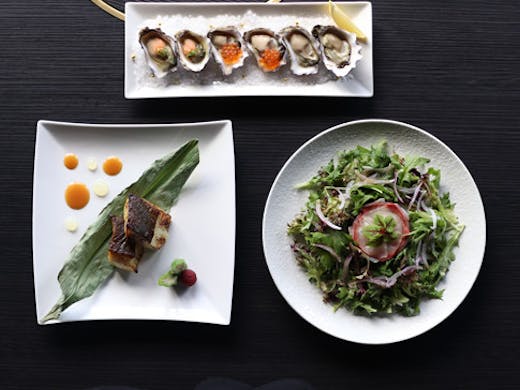 Located in the luxury hotel The Chen in Box Hill, Katori is a refined Japanese luxury dining focusing on superior meats lead by two of Melbourne's most impressive chefs. Former top chefs at Nobu Melbourne Kengo Hiromaesu and Yasuo Matsuike have gone to create Melbourne newest Japanese hotspot and it's well on its way.
The fusion of traditional Japanese and western cuisine combines to create the culinary influences at Katori and it's unlike anything else. Not only does the design, but menu and service style also fit their desire to showcase this blend. A smokeless charcoal grill machine has been specifically ordered from Japan, a piece very unique to the restaurant a stand out from others throughout the city. The specially-made grill allows the food to take on the diverse flavours of charcoal while maintaining a strong 'grilled' quality, eliminating the use of smoke in the process.
And what's a Japanese restaurant without a fully loaded bar? A beautifully curated cocktail and wine bar lead by Jack Lin (Manchuria Bar) features an exciting list of international and local talent that will be sure to well and truly spark tastebud fever.
Image credit: Supplied
---