Kings & Queens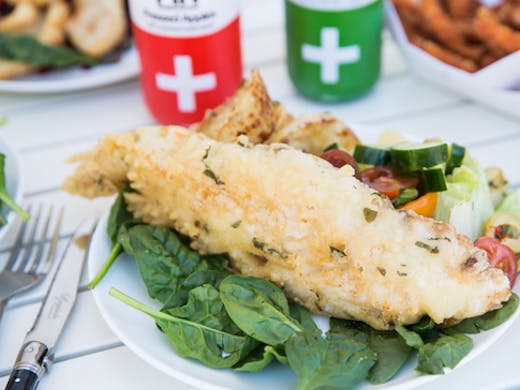 The Verdict
Okay, we may have just found Melbourne's Holy Grail. A fish and chip place that doesn't leave you feeling like a bloated, overweight heffalump. It's called Kings & Queens, and it's specialising in something kind of revolutionary: gluten-free fish and chips.
We don't know of anyone else doing this in Melbourne. That's gluten-free batter on all chips, dim sims and fish (the potato cakes are the only glutinous thing on the menu, but they're fried in a separate fryer). And do you know what? The absence of gluten has actually improved the experience. The fish is shatter-crisp (seriously, you can crack it with your fork like a crème brûlée) and the Kings & Queens team have developed some strange alchemy to guarantee crispiness for like 20 minutes. The sogginess factor is pretty much non-existent.
Kings & Queens is a family affair. Louis Ciavarella is the brains behind the outfit, frying up everything himself and making salads fresh each morning. His dad Tony (and siblings Olivia and Dominic) help out around the shop, and the rest of the team is made up of cousins, friends and friends of friends.
The fit-out is dead cute too: a touch of Cape Cod Connecticut glam, dark glossy subway tiles, and dozens of framed pictures lining the wall. These are the kings and queens. Famous men and women (both historical and present day) who Louis and Tony admire (it's an eclectic bag too—everyone from Ian Thorpe to Walt Whitman and Dame Edna).
"Why does a fish and chip shop have to be nautical?" Louis says. "I'm over nautical. I'm over seeing life rings on the wall. I want people to feel special when they come in. To feel like they matter. Because they do."
The menu is constantly changing. Seasonality is a big thing for Louis and the boys. You can usually find flake and salmon on the cards, but house specials might change from day-to-day. That's because these guys source fish fresh. Every single day. So what they serve is whatever Melbourne fisherman happened to pull up.
Round-out your Kings & Queens experience with some seriously good salads (the Prismatic Prince is a winner—ruby beetroot chunks with pomegranate, sweet corn, carrot, peas and a tangy vinaigrette). There's zero sugar on the menu, so you know the kids won't be bouncing off the walls. And you can wash the whole thing down with a range of gut-friendly sodas.
A game-changer? Head along to Kings & Queens and decide for yourself. We promise one thing though: you'll feel great afterwards.
Image credit: Jenna Fahey-White
---
You May Also Like