Kiosk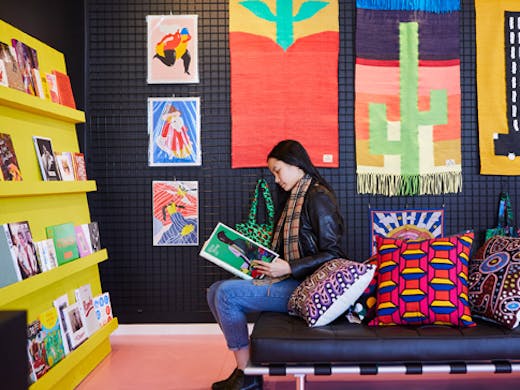 The Verdict
Georgia Perry describes Kiosk as her "playroom", a physical space she can dream up her own products of internet-y graphics and silk scarves.
Based in Melbourne, Perry is a graphic designer who, in eighteen short months, grew from a home office to this epic concept store on Fitroy's infamous Smith Street.
A bright pink neon-lit smiley face is the first hint of the Kiosk kaleidoscope. The walls are pale pink, royal blue, and everything in between. The trademark gold lapel pins, Perry's "bread and butter", sit on one side of the black and white counter. There's Kanye and Kim, and all your favourite emojis.
Across the room on the punchy blue wall are shelves lined with Melbourne's Tantri Mustika Ceramics, handmade fish purses from Spain, and jewellery designed by Perry and international artists she admires.
"You can come and buy a $500 beautiful wall-hanging or you can come get a $4 packet of incense," Perry explains. "It's about the high and the low, and we really want to expand on the 'unexpected curations' with products you wouldn't usually see next to each other."
A long white display table is covered in all sorts of tiny miracles. Mini gold flasks sit next to handmade patches, and embroidered bullion pins. Silk bandanas adorned in graphics of sketchbook designs and planets sit folded to one corner.
Perry's forte is undoubtedly enamel and coloured graphics, although she's eager to expand into other elements: her first experiments with cushions, tote bags, and silk scarves adorn some of the shelves. But Perry makes sure to keep her signature look, no matter the medium: fun, graphic, and poppy.
As for the name, Perry puts it down to her country origins and her love for the Aussie slang.
"To me, the word just reminds me of a beach kiosk, or a kiosk by the pool," she said. "It's a place where all the good things happen."
Image credit: Michelle Jarni
---