Kisses For Kaos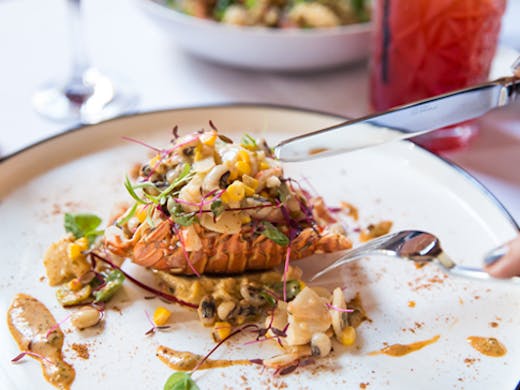 The Verdict
The trick with themed bars is always Less Is More. A few touches, the odd cheeky nod to the source material, but then back to the basics: a solid cocktail list, good food and rockin' atmosphere. If you can't get those right, it doesn't matter how many wink wink nudge nudges you've got on the walls...
Thankfully, Kisses For Kaos totally understands the Less Is More principle.
Kisses is a new Get Smart-themed bar and restaurant that's popped up in a gorgeous heritage building on Preston's High St. The corner spot has seen multiple tenants over the years—the last being a Toni Bianco Factory Outlet. It probably goes without saying: Kisses For Kaos is a BIG improvement.
If you're a fan of Get Smart (a satirical US comedy from the 60s, get around it) you'll love this place. There's a framed Maxwell and Agent 99 poster behind the bar, retro spy gear dotted throughout the venue, and the restaurant's two rooms are named Control and Kaos (if you haven't seen the show—Control were the goodies, Kaos were the baddies).
The Control Room is your formal dining space, dishing up Creole soul food with a white tablecloth twist. Start with some artery-slamming Oysters Bienville (topped with shrimp, bacon garlic and breadcrumbs), then maybe some Cajun fried chicken ribs with butter pickles and white bread. For mains? You don't go Creole without trying the Jambalaya: slow-cooked, fall-apart chicken and rice, pumped with bayou spices, fresh prawns, celery, onion and capsicum. This stuff is New Orleans in a bowl.
The Kaos room is our personal favourite. It's the cocktail and casual dining space—decked out with leather chesterfields, vintage mirrors and a glossy black bar. Here you can get the Po' Boys, that classic Louisiana stomach stuffer. If in doubt, go the Original with potato, onion and gravy, but the Crispy Fried Chicken is pretty epic too, topped with a spicy pepper jelly slaw.
The main thing with this place is the fun. Kisses For Kaos screams fun. They've taken our favourite 60s sitcom, stirred in Creole spices, then simmered with a dash of quirky décor. The only things missing are the shoe phones.
Image credit: Jenna Fahey-White
---
You May Also Like
Food & Drink
Melbourne, VIC
Fans of flavour and seafood feasts, listen up. Louisiana-style Crawfish sensation,…