Kisume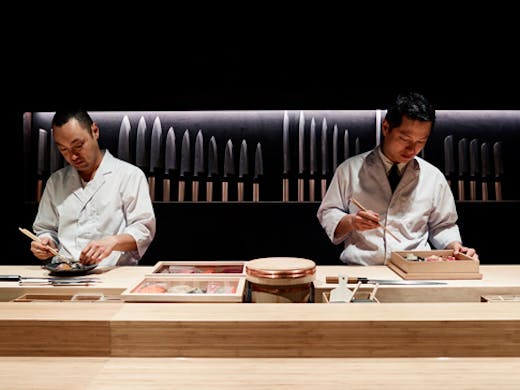 The Verdict
Next time you're standing in line for dinner at Chin Chin (along with half of bloody Melbourne), turn around. There'll be a queue snaking in the opposite direction, and this one leads to The Lucas Group's newest venture, a three-level sushi and sake behemoth called Kisume, just down the road. (Basically, if you want to blame someone for the hungry diners clogging Flinders Lane, blame Chris Lucas).
Kisume means "a pure obsession with beauty", which makes sense when you see the space. There's a hot kitchen in the basement, a sushi restaurant on the ground floor and a bar/omakase space up top (basically a private degustation arena where you'll be force-fed kingfish sashimi until you plead for mercy). The team Lucas has assembled is equally impressive with head chef Yonge Kim at the helm. If there's something these guys don't know about sushi and sake, it ain't worth knowing.
The menu features a variety of hot and cold dishes, but expect to munch on plates of beautifully presented Tamago Mushi with egg custard, prawn and shitake mushrooms, steamed King Crab gyoza or grilled mackerel with sesame ponzu. Personally, we're saving stomach space for the crispy Wagyu truffles with truffle miso, not to mention the seared Yellowfin tataki with wasabi tofu. Drinks-wise you're all set too: Kisume has huge glass cabinets devoted to Pinot Noir, Riesling, rare Sake and Japanese Whisky, as well as Australia's first Chablis bar. Well played, Chris Lucas. Well played.
Image credit: Kisume
---