KooKoo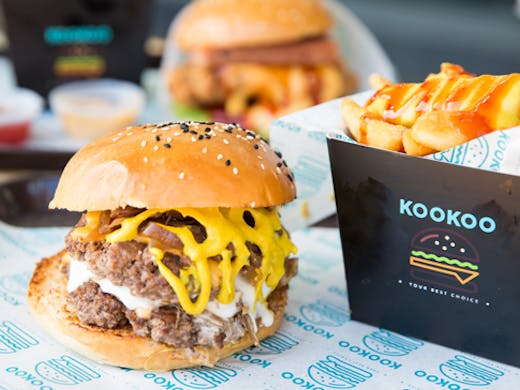 The Verdict
Next time you're moseying past The Clarendon Centre, you'll probably notice a new resident. They're called KooKoo—a cute new burger bar doing phat stacks, sweet shakes and some seriously spicy loaded fries.
The beef patties are a little different at KooKoo. Thicker, slightly smashed, still pink and juicy in the middle. We recommend loading up on two of them with the Size C—double patty, double cheese, caramelised onion, mustard and mayo. If you're feeling extra, there's always the No Joke—beef, cheese, bacon, a fried chicken fillet (!!) Sichuan chilli, pickled jalapenos and mustard. You know a burger place means business when they have a beef-chicken hybrid on the bloody menu.
Special shout out to the Elvis Burger too (we weren't game enough to try this, but it sounds weirdly good?) A beef fillet topped with tomato, bacon, peanut sauce and raspberry jam. Nothing subtle about this one.
Along with the burger range, KooKoo are also slinging loaded hotdogs and some seriously good cheese chilli fries: crispy chips, beef, cheese and chopped jalapenos. Highly recommend these bad boys.
Wash it all down with a peach iced tea, or (more likely) a loaded strawberry shake.
Clarendon St was a burger desert for a while there (apart from the ever-popular #Burgerlove on George St), but with KooKoo and the new Ziggy's, things are slowly beginning to turn. Our stomachs are grateful; Our pants are not.
Image credit: Jenna Fahey-White
---