Ziggy's | South Melbourne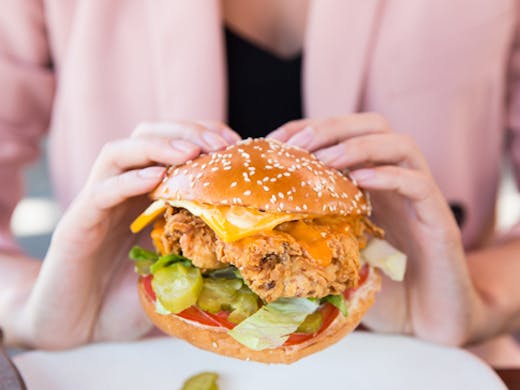 The Verdict
Balaclava locals have been enjoying Ziggy's for a while, but if you don't live near Carlisle St, you might not have heard the name before.
These guys are known for epic burgers, wraps and salads (in that order), and they've just opened a second store on Coventry St in South Melbourne.
Now Coventry St is great if you're after things like...handcrafted artisan paper, terrifyingly expensive vintage furniture, Japanese knives or strong flat whites. What it lacks is burgers. Which is why Ziggy's should be a breath of fresh air, popping up inside a sweet corner space, just down from Chez Dre.
The fit-out is lovely. Eye-popping Ziggy's reds and yellows, tonnes of natural light, high ceilings and exposed brick, plus a swanky little bar serving Mountain Goat on tap. The guys have kept the branding in-tact, but the space feels a lot more modern than their Balaclava HQ.
On to the menu. The concept is pretty similar to the old store: grilled beef Shawarma wraps, stuffed with tahini, pickled onion and lettuce. Meaty salad bowls like the El Diablo (grilled spicy chicken with fried jalapenos, lettuce, tomato, beetroot, Danish feta and smoked almonds.
Last but not least are the hearty double stack burgers (our favourite bit). If you're a newby, go The Texan, a no-nonsense cheeseburger with a 150g pattie and Ziggy's special sauce. Big night on Clarendon St? You need the Recovery—double beef, double bacon, double cheese, double guilt, topped off with pickles and tomato.
Some solid tap beers and a range of loaded fries round out the menu nicely. South Melbourne's been crying out for a new burger bar, and the gods have given us Ziggy's. We're pretty bloody grateful.
Image credit: Jenna Fahey-White
---
You May Also Like
Food & Drink
Melbourne, VIC
Fans of flavour and seafood feasts, listen up. Louisiana-style Crawfish sensation,…