Kozminsky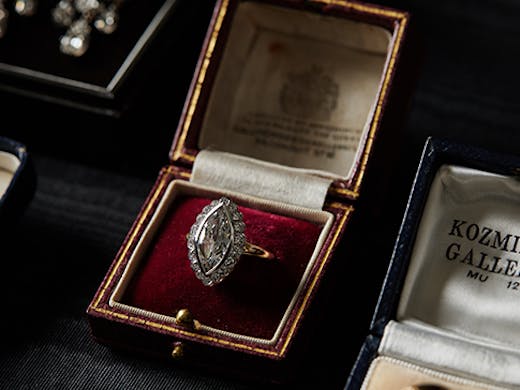 The Verdict
You'd never know it was here from down on Collins St. Perched up on the second level, with a view of leafy plane trees, there's a New York-style jewellery store with a history going back to Melbourne's gold rush days. This is the new-look Kozminsky.
Kozminsky is a Melbourne institution, right up there with Myer, GPO, Pellegrini's and bad-mouthing Sydney. But in 2017 the brand was forced to leave its heritage Bourke St home, opposite Hardware Lane (the 40-year lease was finally up). So they moved in here.
Owner Kirsten Albrecht says, in some ways, the new store is actually a more 'classic' location.
"In Paris and New York, this is how they do it," she says. "Often you'll find jewellery stores are up on the second level, overlooking the street."
If you're unfamiliar with the Kozminsky brand, let's break it down for you. These guys have been selling jewellery and objects d'art in Melbourne for 166 years, ever since Polish immigrant Simon Kozminsky set up shop in 1851, melting down Victoria's newly mined gold. Albrecht's family have owned it for 48 years
Since then, Kozminsky has become THE place in town for one-of-a-kind pieces. If you want a princess cut diamond ring on a platinum band, Tiffany's is just down the road. You come here for heritage, for quality, for a story.
Albrecht (and her lovely manager Dat Van) source gorgeous pieces from all over the world. "Sometimes it's local estates," Albrecht says. "Someone passes away and their children bring in their treasures. Other times our buyers will dig up something interesting."
Interesting is the word. There's an antique display cabinet shipped over from Cartier, and you could spend hours pouring over the stock inside: an 18th-century Portuguese Chrysoberyl broach, giant amethyst cocktail rings, Victorian earrings and rare 'Objects of Beauty'. It's like someone time-warped an old-world New York jewellers from 1934.
Obviously, all this stuff doesn't come cheap (Kozminsky doesn't trade on volume), but you'll be surprised by what you can get for your money here, compared with more traditional jewellers like Tiffany's or Hardy Brothers. "We actually some beautiful pieces for under $1000," Albrecht says.
And one thing's guaranteed: whatever you pick, it'll be one of a kind. Just like Kozminsky.
Image credit: Griffin Simm
---