Kuaizi Bar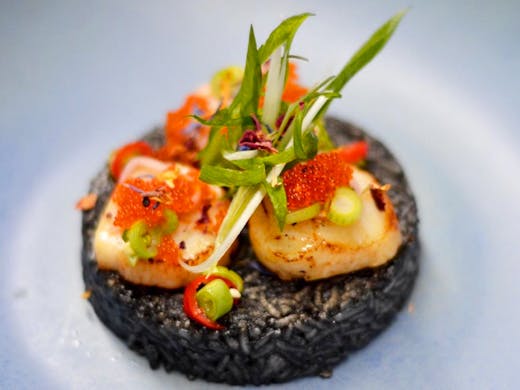 the verdict
Are you a fan of coconut, lemongrass, birdseye chillis, and all the other good stuff that we know and love about Asian fusion food? If so, Melbourne CBD newcomer Kuaizi is going to blow your tastebuds away with it's delicious dishes, served morning, noon and night. The petite cafe-bar-restaurant on Manchester Lane, tucked between Flinders Lane and Collins Street, has come out of nowhere with a menu that contains a host of new favourites, from roti-wrapped Asian breakfast omelettes to espresso glazed pork belly that will have you drooling for days.
If you're in search of some tasty morning fare, Kuaizi's menu is all about chilli-laced scrambled eggs, buckwheat and berry pancakes, and some of the best (and most colourful!) coffee in Melbourne. At lunchtime, they switch it up to include a kimchi chicken burger, Thai salads, lamb tacos and an epic pork belly baguette. At night, the space transformes into a cosy bar-restaurant, with stand-outs that include grilled coconut calimari, chilli and almond scallops, sweet and sour beef ribs, and a lemongrass and lime creme brulee, it's the perfect date spot for hungry Melburnians. As for drinks? Expect top-shelf liquor, incredible flavour combos, and stunning presentation. You can't go wrong with that Tom Yum Bloody Mary!
It's a tough one, but we're calling it: Kuaizi is turning out some of the best Asian fusion cuisine—including cocktails that will have you wishing it was Friday night every night—in Melbourne. Go now, before the queues start winding all the way down the street.
Image credit: Kuaizi Bar via Instagram
---
You May Also Like