Kung Fu Burger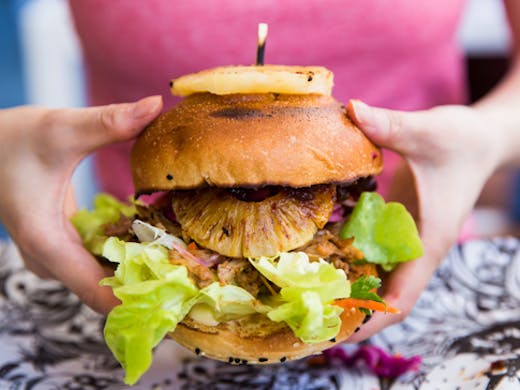 The Verdict
A burger place without ketchup or mustard? Yep, it does exist. Welcome to Kung Fu Burger, South Yarra's Asian-inspired burger joint.
There are a few subtle clues that Kung Fu burger is trying to do things differently. The eye-blasting red and yellow paint scheme for one. In an age when most burger bars are opting for sleek minimalism (or chunky industrial timber) co-owners Truman Ng, Natalie Sam and Alvar Leung have gone for fun instead. That explains the giant Bruce Lee-style mural (from local artist Ning Xue), splashed over the wall. Given the owners' Hong Kong background, Lee is kind of a hero in these parts.
It also explains the menu. This is fusion done properly, which means it's not about the gimmicks. The Kung Fu guys prep everything themselves here. They pickle their own kimchi, blend their own yuzu & lime mayo, hand-prep their own takoyaki octopus balls.
Ng teamed up with Paul Zao (head chef at Crown's Koko) to develop the burger combos. And they're pretty wild, to say the least. Conservatives might lean towards Respect The Classic (210g beef patty, Kung Fu sauce, cheese, tomato and lettuce) but we urge you to roll the dice on this one. Try the Thai Boxer (a pulled pork stack, spiked with Thai chilli mayo and a hefty slice of grilled pineapple). Or maybe the Minister Chicken (gnarly, deep-fried chook, slathered in Yuzu-lime mayo and topped with Japanese pickle and an Asian slaw).
For sides? Sure you can go the regular fries. But Kung Fu also offers crispy sweet potato chips (coz health), or the mighty Bruce's Chips (which have nothing to do with health). Think golden fries topped with pulled pork, Sriracha mayo, jalapenos, spring onions and bonito flakes.
Top it off with a milkshake and you'll be smiling all the way home. Ng and the crew are doing a Nutella Shake (always popular), but if you want something fresh, give the Matcha & Red Bean a try.
Image credit: Jenna Fahey-White
---