Kuwaii | Collingwood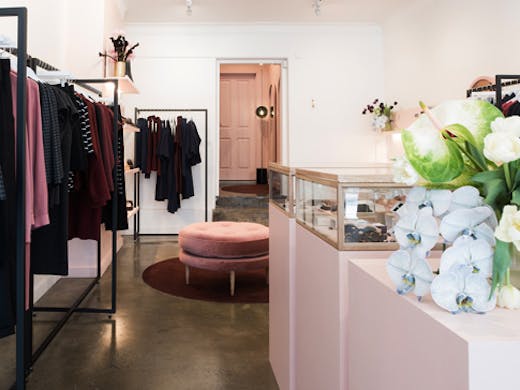 The Verdict
Local slow-fashion boutique Kuwaii started as an alternative to the 'churn' fashion model: cheap materials, low-quality labour, nothing sustainable or ethical. Founder and designer Kristy Barber wanted to change all that, so 10 years ago she started up a little boutique label (the name's a play on kawaii, the Japanese cuteness culture).
This is Kuwaii's third bricks and mortar store, not a bad effort in an age where high streets are littered for 'For Let' signs and more retail businesses are moving online.
The building on Smith St dates back to 1852 (Barber reckons it might be one of the oldest retail spaces in Melbourne). And when you have heritage bones like that, you don't half-ass the fit-out.
Imogen Pullar of Drawing Room Architecture has pulled on the pastel pinks to create a feminine, artful space. Sticking with the brand ethos, most of the stuff is restored, salvaged, upcycled and locally-made. It's a refreshing contrast to the greasy dive vibes of Po' Boy Quarter, just nextdoor.
The new Collingwood store will stock the Kuwaii classics collection, as well as seasonal ranges of Melbourne-made clothing and footwear. Kuwaii launch two collections each year (SS and AW), most of which is built from offcuts from the larger factory houses. If you can't wait to get your hands on them, there's an online store with the latest styles.
If you need to update your lookbook, Kuwaii is a good place to start.
Image credit: Kuwaii
---