Kyodai Katsu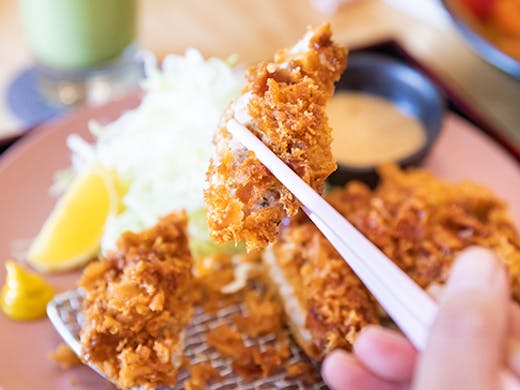 The Verdict
Things in Melbourne always come in threes, even dedicated katsu restaurants. So far we've had Ton & Co in Prahran, Kyodai Katsu in Carnegie...now we're just waiting around for the third one to drop.
It could be anywhere at any time, so keep your eyes peeled.
But back to Kyodai. This is a new Japanese katsu bar that's opened on Koornang Rd in Carnegie, and we're a little torn about the whole thing. Because on the one hand it represents a creep of gentrification into one of our favourite rough-and-tumble dumpling strips in Melbourne, but on the other hand, the katsu is really, really good.
Told you, torn.
So we rocked up to Kyodai with an open mind and an "okay, blow us away" sort of mentality. And that's pretty much what they did.
You'll spot this place as you drive past. It's your classic minimalist Japanese eatery, pepped up with some pastel pinks, blonde timber beams and sugar-sweet branding. Straight out of the Melbourne Playbook circa 2018. But the atmosphere is great—modern and warm, with big, white bucket chairs and dotted greenery.
But the big question: how's the katsu? If you're going to open a dedicated katsu bar, you'd better get that panko crumb shatter-crisp, and Kyodai have obviously got the formula nailed. The pork and chicken Teishoku is the way to go here: you get perfectly fried katsu, cooling on a little wire mesh, a cup of umami-powered miso, steamed rice, pickles, lemon and a squirt of mustard.
The batter isn't exactly your traditional katsu crumb (it's chunkier, gnarlier, more like corn flakes), but the overall taste is great. We double parked a bowl of panko pork curry too—the curry is hearty and lightly spiced, with a few token carrots and potatoes bobbing there for nutrients.
Drinks-wise, you can get iced matcha milk tea (with a big scoop of matcha ice cream on top), or your basic mix of soft drinks.
The guys are also doing made-to-order Nutella taiyaki (basically baked fish-shaped cookies) for $2.50 each. We highly recommend finishing off the night with a few of these.
So, the verdict? It's a pass. Kyodai is welcome to trade on the sacred soil of Koornang Rd. We'll be dreaming about that katsu crumb for a while...
Image credit: Mel Desa
---
You May Also Like