L.A. Burgers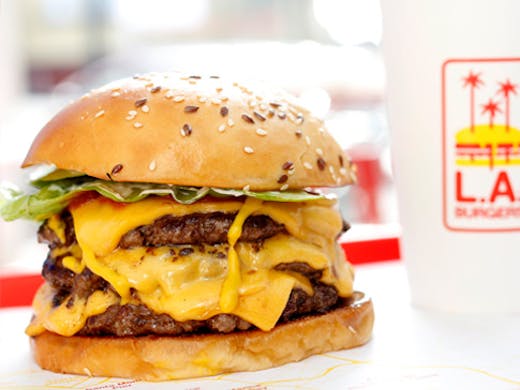 The Verdict
Heads up, burger fiends. There's a new player in town. L.A. Burgers has popped up on Toorak Rd in South Yarra (just opposite the station), and it's doing—hands down—some of the best burgers we've tasted this year. That's a big call, so let's pop the hood on this bad boy and check out the engine room.
Start with the bun: you've got the choice between sesame-dotted brioche or a good old milk. Personally, we think the milk bun is making a comeback, and these ones have the right balance of pillowy mouthfeel and sog-resistant structural integrity. The patties are juicy and soft, but with a gnarly crunch to the edges. The cheese is gooey American cheddar, golden and artery-clogging and melted to perfection. Throw in a well-balanced mix of pickles, mustard, ketchup (and a sliver of guilt-free cos lettuce) and you've got one hell of a stack.
L.A. Burgers is the brainchild of owner Peter Curtis, inspired by his travels along the US west coast, particularly his time spent at In-N-Out Burger (California's burgeoning burger juggernaut). 8Bit may have the Shake Shack-style down pat (like, uncannily so), but this is the first time someone's modelled a Melbourne burger on the American west coast style. And trust us, the result is insanely good.
You can't go wrong with the Sunset Blvd (a double patty cheeseburger stack, and yes, you do want to add the bacon) and you'll need a serve of onion rings or fries to go alongside. Grab the 'L.A. Sauce' while you're at it—a zingy mayo-based blend that acts as a great dipper. Wash it all down with a thick-as berry shake, or a frozen custard for dessert. All the food groups right there.
Image credit: Brennan Lukav | Burgers of Melbourne
---