La Bodega Des Andres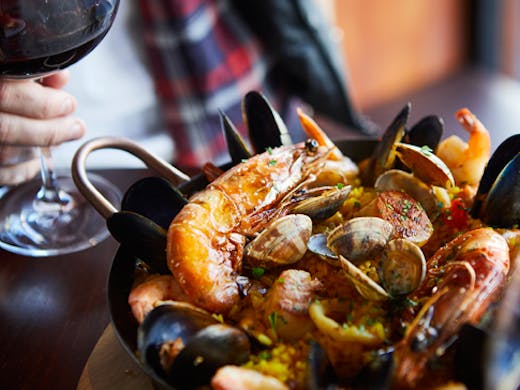 The Verdict
"This is Spain," Andres Ruiz Mesa says, waving a calloused hand at his new bodega. "Those chairs on the walls, they from Spain. This wine, from Spain. A lot of our ingredients—"
I hazard a guess, "From Spain?"
"Si. From Spain."
Andres' English isn't the best, but lucky for us he's fluent in body language. When he looks around La Bodega Des Andres—his brand new tapas bar on Brunswick St—you can tell he's excited to be bringing REAL Spanish food to Fitzroy. For Andres, Melbourne Spanish has become a little...distracted. Chorizo in paella, for instance. Don't even get him started.
"This is not how we do it in Spain. Australian chefs they adding bay leaves and chorizo and all sorts of things," he mimes frantic Jamie Oliver-style sprinkling. "This is not Spanish paella."
Andres is a two-hatted chef, who arrived in Australia about 15 years ago. Since then he's opened the iconic Arcadia Gastronomique in Ascot Vale, bringing a touch of Canary Island tapas to Melbourne. And Bodega Des Andres promises to be more of the same.
The fit-out is classic Spanish tapas bar. Big wine barrels everywhere. Salvaged timber from Spanish galleons. Flamenco chairs hanging on the walls (built at just the right height for a guitarist's foot). A well-stocked wine cellar, tucked into the wall. Andres even points out a big glass jar of Spanish saffron on a shelf. RRP? $7000.
Food-wise, you can expect legit, authentic Canary Island-style cuisine. Mostly tapas and smaller shared plates, but the main event is (of course) the paella. Cooked in a proper pan, and with a wicked soccarrada crust on the bottom, it's well seasoned and absolutely delicious. Andres goes heavy on the seafood, sprinkling on prawns, mussels, scallops, squid and butter-fried scallops.
What else should you grab? Definitely a plate of the salmon ceviche, topped with citrus-spiked capers and onions. The chargrilled octopus is another dead-set winner.
To be honest it's probably best to close your eyes, point to a bunch of stuff, and trust in Andres to see you through.
Image credit: Michelle Jarni
---