La Petite Crêperie | Swanston Street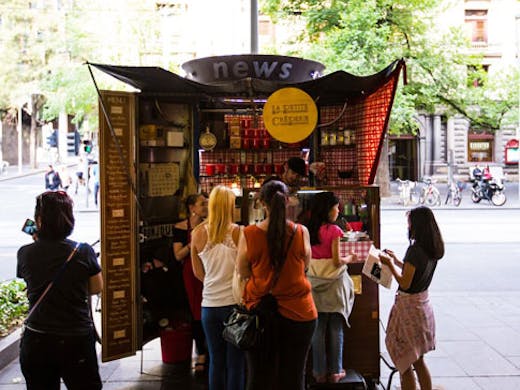 The Verdict
You'll find La Petite Crêperie dishing up sweet crêpes to take away, from their kiosk on the corner of Swanston Street and Little Collins Street. The kiosk is a teeny-tiny affair, but it punches well above its weight when it comes to flavours and quality of the sweet treats that it spoils its customers with - there's a reason that La Petite Crêperie is Melbourne's most popular French takeaway.
All crêpes are made to order, ensuring that they're as fresh as fresh can be, and you'll be served your order in a convenient takeaway cone. There's a fantastic variety of toppings to choose from, including lemon and sugar, nutella and almonds, real maple syrup, and La Petite Crêperie's famous homemade salted caramel (made with Sel de Guérande)
Open until late, we think we've found our favourite CBD on-the-go dessert !
Image credit: Supplied by La Petite Crêperie
---