La Tienda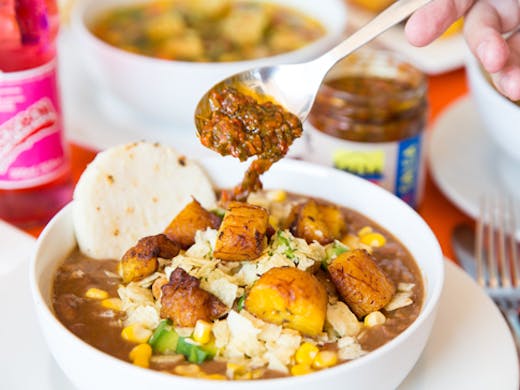 The Verdict
If there's a more Colombian restaurant in Melbourne, we haven't found it yet. La Tienda is the latest eatery to join Windsor's fabled 'eat street' scene: a no-holds-barred Colombian paradise, complete with housemade arepas, imported spirits and more national pride than you'll see anywhere outside a Barranquilla football stadium.
Colombian-born John Gomez is at the helm, and he's dead keen to share his national food with Melbourne.
"We set out to create a menu with nostalgia at its heart," says Gomez. "There are more than 3,000 immigrants that have been living here for many years. We want to make this their hub of familiar sights, smells, sounds and flavours. You can expect to eat what you'd enjoy at a Colombian dinner table."
Authentic is definitely the word. There's nothing here that you couldn't get on the streets of Medellin or Bogota. Your first stop should probably be the Picada—a meaty platter of chorizo, beef, pork and plantains. You can get crispy house-made arepas (our personal fave), chicken Mondongo stew, and big spoonful's of Aji (pronounced A-he), the country's favourite condiment.
Along with Aji, Gomez is importing a range of Colombian soft drinks, beers and spirits, including the famous Aguardiente Antioqueno (an aniseed liquor that kicks like a South American mule). Gomez is using these as the base for a range of exclusive La Tienda Cocktails: Aguardiente Sour, Midori Splash (Midori is very big in Colombia for some reason) and even a spiked iced-tea. Nice.
If you've ever been curious what Colombian cuisine is all about, consider La Tienda your crash course.
Image credit: Jenna Fahey-White
---