Lady Carolina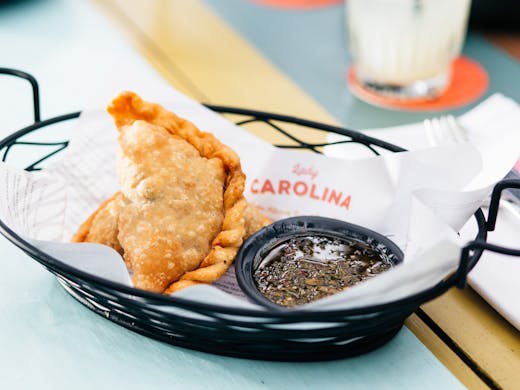 The Verdict
Mid-2016 has brought about new changes to much-loved Brunswick restaurant, Lady Carolina. Now operating under a new team, headed by Patrick Ciccaldo, executive chef Hugo Diaz (Cafe Bedda, Cantina Centrale) and brothers Vitale and Paul Ferrante (Cantina Centrale), the restaurant has been given a second lease of life.
Heeding the advice from previous ownwers and the local community, the first major change to Lady Carolina has been the menu: Think simple street food and BBQ dishes with a much more relaxed vibe. As Ciccaldo says, 'Latin American food is best enjoyed when surrounded by colour, music, and casual vibes, with a pisco sour or cerveza in hand.'
In the kitchen alongside Diaz, is head chef Cindy Flores, who orriginally hails from Guadalajara, Mexico. Working with them is a team of Columbian, Venezuelan and Australian chefs, who use their melting pot of backgrounds and knowledge of Latin American cuisine to bring out some amazing flavours.
You can't get much more Latin American than starting your meal with tacos. Enjoy beer battered fish, 12-hour marinated pork, or crispy cauliflower, served on soft corn tortillas, along with prawn ceviche or home made Empanadas. The 'Empanada de Pino,' which uses Diaz's mother's recipe, is a standout, with its golden fried pastry filled with mince beef, egg, black olives and sultanas. Still hungry? Indulge in a selection of meat, fish and poultry that has been cooked in a traditional Chilean parrilla BBQ, and top it all off with a glass of wine or exotic cocktail.
So, go and find this brightly painted building on Lygon Street, with it's bold, turquiose doors imported straight from Mexico, and be ready to be transported to Lady Carolina's world of Latin American deliciousness.
Image credit: Lady Carolina
---