Lamaro's Hotel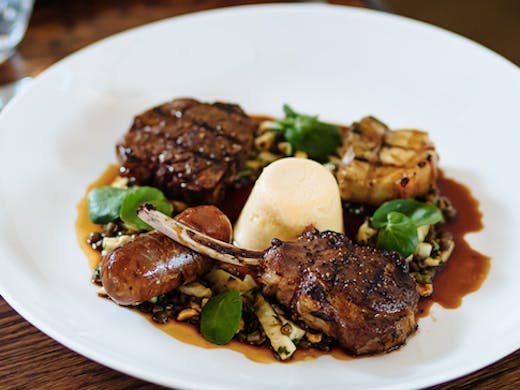 The Verdict
Hospitality stalwarts Geoff Lindsay and Paul Dimattina have taken the helm of South Melbourne gastropub, Lamaro's, and they've taken it to the next level.
The duo has created exactly what you want from a neighbourhood pub: somewhere familiar and relaxing. Nothing too wanky. With Geoff as Executive Chef and Paul as General Manager, the menu has been revamped. They're now rocking Modern Australian, and there's plans in the works to open a new cellar bar in February 2019.
"We're proud to call South Melbourne home. A truly local pub with a homely feel, Lamaro's has a long history in the area" says Paul. And a local pub vibe is what they've given us. Good front bar, cruisey dining area, with room for private functions to boot.
The main Dining Room is the ultimate space for a cosy meal, and it's hard to go past the pan-fried veal schnitzel with sourdough crumbs or tiger prawn dumplings.
The menu is clearly trying to push the gastro-pub boundaries a little. Crowd favourites so far include Tasmanian Pacific oysters in a dashi broth, and baby barramundi with saffron and almond rice, but (like a lot of places in town) the boys are turning up the smoke.
Geoff says, "The heart and soul of our kitchen is our custom-built wood-fired grill. We burn a base of red gum, and overlay aromatic cuttings for added flavour and aroma, vine pruning and citrus leaves add character."
Sit yourself up at The Bar and enjoy a variety of craft beers, cocktails, and hearty bar dishes. Or settle into a bottle of wine and platter of farmhouse cheeses to share.
Lamaro's also offers two private dining areas that can seat between 20-24 punters. The Atrium is pretty spectacular, with its huge skylight and luscious greenery. The Wine Room is the best choice for a more intimate dining experience.
Yeah, the food menu is impressive, but Lamaro's also has a wine list to back it up. There's over 300 local and international drops on the list, with 34 varieties by the glass and eight premium drops from the coravin.
The guys have you covered on the beer front, too, with 12 rotating craft beers on tap, as well as the classic Carlton Draft. You should also be aware of the Scotch trolley that wheels around the dining room with 30 spectacular options.
We suggest leaving room for dessert, the menu does not muck around. Our choice: Lamaro's banana split. Chocolate and banana gelato, vanilla bean ice cream, chocolate shards and hazelnut praline. Yes. All the way yes.
Lamaro's is open from 11am to late, 7 days a week for lunch and dinner.
Image credit: Lamaro's Hotel
---