Lane's Edge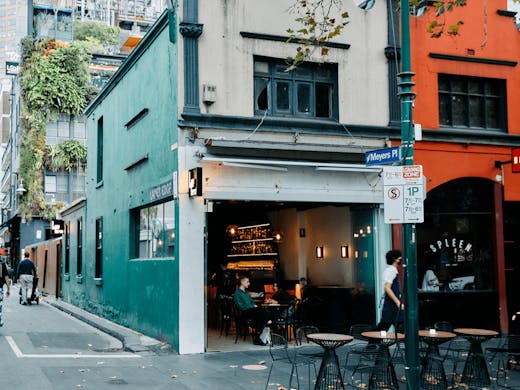 The Verdict
City favourite, Lane's Edge, has just got a sleek new look. Favoured as a regular haunt for a drink or late-night catch-up, the bar positioned up on the top end of Bourke Street has a storied legacy and now with a fresh lick of paint, it's set to usher in new memories. Headed up by Ian Hicks alongside venue manager, Will Crennan the pair has set to craft an approachable feel to the bar.
Resting on the corner of the Meyers Place, alongside other CBD titans such as Waiters Club, San Telmo, and Pizza Pizza Pizza, the fully restored Lane's Edge is now punching as one of the city's top spots for a drink. The 30-seat bar features a carefully curated wine list featuring several drops from local producers which you can tackle by the glass or bottle. Bar snacks are dialled up quite a bit, you can opt for a casual accompaniment of pimento-stuffed olives or dive right into cheesy enchiladas with pulled pork or spiced beans.
The actual space dates back to 1850 and the team has utilised features including the original bluestone flooring as well as fittings to give the modern wine bar a timeless feel. Of course, the open-air section of the venue is still well celebrated, this time removing the dense jungle-type ornamental plants in favour of a clean beer garden with mural artwork adorning the brickwork.
Image credit: Parker Blain (supplied)
---