Laneway Greens | Collins Place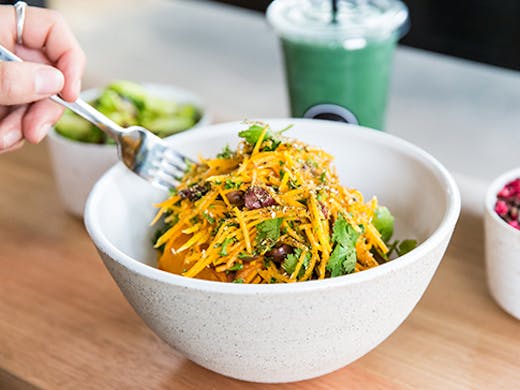 The Verdict
When you think of takeaway, putting your health first doesn't come to mind. But the team at Laneway Greens are here to explode your preconceptions about food that comes in bowls.
These guys already have two super successful stores (Swan Street and Flinders Lane), and now they're cutting the ribbon on a brand new Exhibition St venue. You'll find it in Collins Place, on the corner of Exhibition and Collins (just follow the crew of hungry vegans).
Wondering what all the fuss is about? Laneway Greens serves up guilt-free smoothies and bowls in a counter-top style. The founder, Luke Cala, has strong feelings about serving healthy food that's actually accessible: "Our philosophy is simple; serve food that uses quality local produce—ethically and sustainably sourced—and make it accessible to a wide community." he says.
Although they're slinging smoothies and greens in the summer, the team have decided to go a bit warmer for the cold snap season (but don't worry – our fave smoothies and juices still make an appearance on the new menu).
Dan Fisher (ex-Sketch in London) has carefully curated Laneway's new winter warmers to suit all types of dietary requirements. Think shio koji grilled chicken with fennel and house-made falafels with braised lentils for their mains, or if you're in the mood for something sweet, try their vegan chocolate mousse with peanut butter crumble.
Vegans and veggos are well catered for, with kipler potatoes (our fave) with vegan mayonnaise (yum) and house-made hummus (yes, please) on the cards as well. Meat-eaters might baulk at adding slow-cooked beef to their bowl for $7.50, but honestly the salads don't need animals to be delicious.
Laneway are even slinging bottomless brews for less than a fiver from 8am – 10am daily for the entire winter season. We don't know what heaven looks like, but surely this is pretty close.
Image credit: Jenna Fahey-White
---
You May Also Like