Lasagna Lab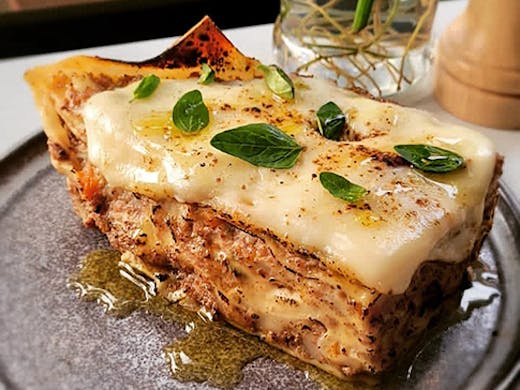 The Verdict
Chef Mattia Aloisio and hospitality expert Alessio Davidde are decade-long friends who dreamt of opening up a restaurant together and sharing their love of food with the world (or with all of High Street, at the very least). Both Italian natives have had successful careers in the industry, with Mattia working in Melbourne institutions like Grossi Florentino, and Alessio managing the prolific Circa. When they found each other in Melbourne, they decided to team up and forge their own culinary path.
With Mattia's gastronomical prowess and Alessio's passion for all things front of house, they seemed unstoppable, but then Covid hit. Determined to get started on their culinary partnership despite the impending second wave, they opened their doors in the midst of the 2020 lockdown, providing carby melty goodness to a city in desperate need of some good comfort food.
Their lasagna isn't just any lasagna though. This duo is set on staying firmly outside the box while remaining as sustainably-minded as possible, creating their masterpieces from locally sourced produce. They create flambeed carrot and pine mushroom lasagne with pine mushrooms they forage themselves, and thyme they pick from their own garden. Their Sher-wagyu Bolognese uses beef sourced from one of three certified Victorian farms, and Alessio works with local breweries to source the best microbrews while supporting local businesses.
Their lasagna flavours are classic, but also exciting and unique, ranging from the entirely vegan porcini, truffle and cashew lasagne to their autumny pumpkin lasagne infused with amoreti and topped with decadent mascarpone. They even offer a lasagne-misu, served in a reusable jar you can take home or bring back and reuse for a five-dollar discount.
Mattia and Alessio set out to create a dining experience to replenish the planet and the soul. With their decadent, comforting meals, they've achieved just that.
Image credit: supplied
---