Lay Low Bar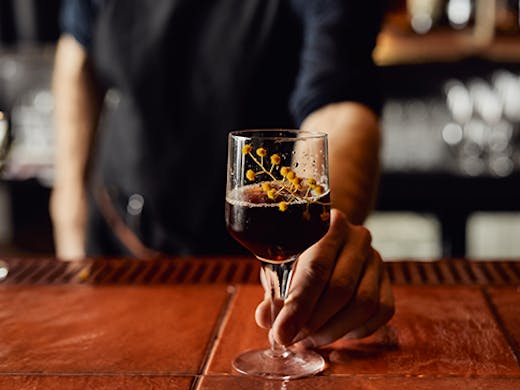 The Verdict
You walk into Brixton Pound like it's no big deal. Past the Oakland A's flat caps, Champion sweaters and achingly cool Vans high-tops. On the left, there's a ribbed door, painted grey, with a little neon keypad on the wall.
Doesn't look like much, but you just found the entrance to Lay Low Bar, Seddon's new ultra-classy speakeasy.
Lay Low is a little love-project from three mates: Chris Fleming, Colin Wood and Miles Williamsz. Chris also happens to own Brixton Pound. The space used to be an old workshop, and the original idea was just to create a swish whisky and cocktail bar (a moody gap in Seddon's booming social scene). The speakeasy bit sort of happened by accident.
But hey, we're not complaining. Show us a secret door and we're there—doesn't matter if there's a bottomless abyss on the other side.
Lucky, that isn't the case with Lay Low. On the other side is a long main bar, chunky industrial pendant lights, polished terrazzo floor and big warehouse windows on the back wall. The atmosphere in here is bang on-point: refined with a little grit, gold herons with light bulbs dangling from their beaks, underlighting on the bar and aproned bartenders shaking up cocktails.
Oscar Eastman from Eau De Vie handled the cocktail menu, and they don't come much better than that. There's a screw to the drinks too: the 'Seddon Sling' muddles Vietnamese mint and ginger beer, while the Gentry Fix uses cognac, secret spices and leftover avocado pips from Common Galaxia, down the road. In fact, most of the menu is geared toward zero waste.
One last thing—beer-drinkers, you've gotta try the 'Beerlini', a beer-powered Bellini, built from a Hop Nation pale ale. Hop Nation are also pouring on the taps, if you're a bit unsure about cutting edge beer cocktails.
There's no kitchen at Lay Low, but the guys are serving up Greekish snacks from The Brotherhood Yiros and Grill next door. So you can wash down your whisky with a selection of souvlaki sliders, lamb skewers with garlic-pumped tzatziki, or loaded patates (spuds) with oregano and feta.
So many of our favourite things under the one roof...It's enough to get you browsing 'rentals in Seddon'.
Image credit: Griffin Simm
---