Le Shoppe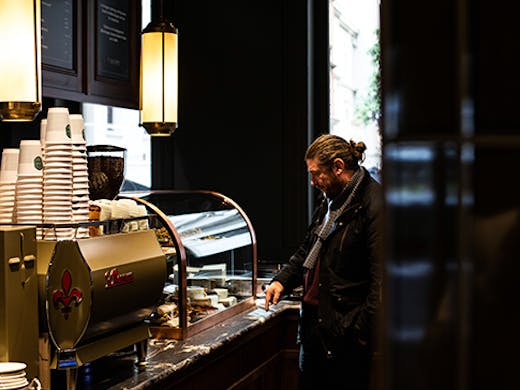 The Verdict
Le Shoppe is the latest addition to restaurateur Scott Pickett's quiver, serving takeaway delights, quality produce, pantry staples, and house-made food by Chef Rob Kabboord.
Adjoining Pickett's stunning Chancery Lane bistro, Le Shoppe is the more casual sibling next door offering a warm spot to enjoy your lunch break or morning coffee. The space has been designed by Bergman & Co. to embrace the historic charm of the Normanby Chambers building with dark timbers, mosaics, hand-glazed tiles, and stone and copper details. It's got all the feel of a Parisian bar and provedore, complete with cabinets displaying cured meats, cheeses and seasonal produce.
The menu has a strong French influence, with mouth-watering favourites such as crepes suzette, croissants, quiche lorraine and croque monsieur topping the bill. The cabinets will be filled daily with fresh baguettes and pastries, but they've also got a selection of heartier meals for those days when you need a long lunch, including confit duck leg, pork belly, roasted chicken and a range of rotating soups and salads.
It couldn't be called 'Le Shoppe' without a retail component—this is where the pantry comes into its own. Stock up on Scott Pickett Gin, Mount Zero Olives, Sardines from Portugal, Everleigh Bottling Co. Spritz, Vilux Cornichons, Brett's Chips Camembert, Mariage Freres Tea, Lucas Trout Pate in Port Wine and Spiced Sardines in Olive Oil Piri Piri, Duchy Original Shortbreads and plenty more.
Le Shoppe is open Monday to Friday from 7am until 4pm, with corporate and event catering available too. Pop in and take your takeaway standards up a few notches.
Image credit: Alex Squadrito
---