Leaf & Bear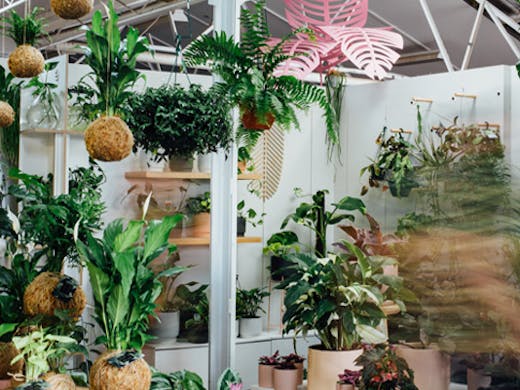 The Verdict
Everyone knows you can't have #apartmentporn without a few monstera, fiddle leafs and Devil's Ivy dangling from the ceiling, right?
Well if you live in Brunswick and you want to make your house look like Poison Ivy's lair in Batman & Robin (underrated film), this is the place you go. Leaf & Bear—a boutique nursery inside a drab grey warehouse on Colebrook St, just near Moreland Station.
From the street this place doesn't look like much, but owner Bettina Tynan has created a proper plant wonderland on the inside. Hanging ferns, Mother In Law's Tongue, Peace Lilies, Peperomia—basically all the stuff that can survive a few days of 'Whoops, forgot to water you...'
The other thing you'll find at Leaf & Bear is kokedamas. They're basically a Japanese planter—just a ball of soil, covered in moss, out of which grows a plant. You can hang them from the ceiling or sit them in a wire planter frame, and Tynan runs regular kokedamas if you want to have a crack at making your own.
Need more help? Leaf & Bear also run terrarium making classes, crochet, even woodwork workshops. And Tynan is always around to offer a few words of wisdom for serial plant killers (pro tip: overwatering is a sin). You can also hire out plants for functions and events, or grab wholesale kokedamas to spruik up your office or cafe.
Check these guys out on Saturdays. They're open from 10am-4pm. Peace (lily) out.
Image credit: Annika Kafcaloudis
---