Legacy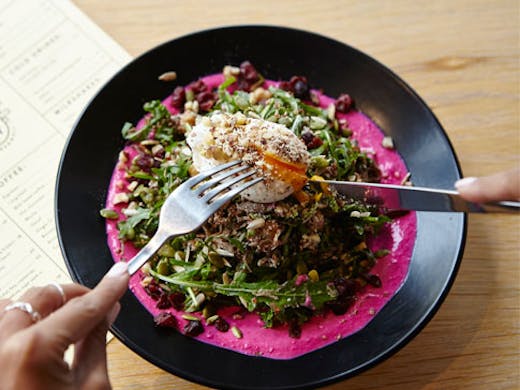 The Verdict
As far as cafes that tick ALL the boxes go, it doesn't really get any better than Legacy. Where to start….
You'll be greeted by a minimalist interior that's still got all the warmth of somewhere you'd happily settle in. Decked out in natural colours, there are brick inset floors and stunning lime-washed timber joinery. The attention to detail throughout the space is phenomenal and there's been a huge amount of thought put in to concealing all the 'ugly' aspects of a cafe — the milk containers, supplies and day-to-day cafe necessities that you'd usually see in a café are discreetly out of sight.
Legacy has recognised that in Melbourne you can't get by as a café by just being a pretty face. There's a focus on serving up top-notch coffee and a menu that's not only legit, it'll totally knock your socks off.
Legacy's menu is essentially a feast of two halves. On one side, you've got an epic selection of healthy dishes. Think dragon fruit or acai power bowls filled with coconut infused yogurt, fruits and nuts. Or a buckwheat superfood porridge that's served warm with cranberries, blueberries, pepitas, banana and whipped pumpkin butter. If you like your breakfasts to have a hint of dessert to them, you can't go past the pitaya yogurt panna cotta — it's a perfectly balanced dish which comes with cacao, dark chocolate and coconut granola, strawberries, passionfruit and grilled orange. Our favourite? The Lamb super salad, an epic plate of all kinds of healthy goodies, including a poached egg and beetroot pachadi. We promise you'll be scraping the bowl clean.
The other, equally delicious side to the menu includes the finger lickin' dishes. Think buttermilk fried chicken served on a brioche bun with charred corn slaw, mustard and sriracha mayo. Or green folded eggs. Or the sriracha and chorizo egg benny…. So many options!
The thing they all have in common? Every item on the menu is a contender for most instagrammable dish of the year. This yin and yang approach to the menu makes Legacy the perfect spot for a brunch date.
Atmosphere is often overlooked at cafes, but Legacy has oodles of it; the old-school RnB will have you reliving your youth like it was yesterday. It really is the cafe you'll wish was your local.
Image credit: Michelle Jarni for The Urban List
---