Leonardo's Pizza Palace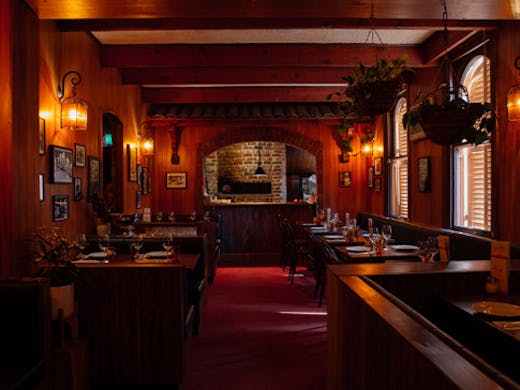 The Verdict
A seventies-style interior and timber panelling that makes you feel like you're in a ski lodge on the Dolomites, Leonardo's Pizza Palace is smack dab in the middle of all that Carlton glory, which can only mean three things: amazing food, great drinks and good vibes.
With a beautifully curated authentic Italian menu, the meals at Leonardo's don't miss a beat. For a dose of nostalgia, the spaghetti bolognese with a light parmesan coating is a must-have. The slight charring of the pizza crusts adds to the unbelievable taste, the amalgamation of the two creates that perfect dough-ey crust with incredible flavour.
An absolute go-to is the Pepperoni pizza, covered in delicious pieces of slow-burning medium spiced meat and stringy house-blend cheese—it'll fill you up and have you wanting more. Non-meat-eaters, don't panic: there are a few vegetarian options on the menu as well.
With the cocktail menu and beer taps on constant rotation, there will always be something new to try for those alcoholically adventurous ones out there at Leonardo's. Standout cocktails would be the Jungle Bird (Jamaican Rum, Campari, pineapple, lime and bitters) and the Air Mail (White Rum, lime, honey and bubbles) just to get your tastebuds going.
At night, let us tell you: it packs out. The aura created when Leonardo's is busy (it always is) is unparalleled with the room filling with ambient noise it creates a unique dining experience—add a DJ spinning some tunes on the decks most nights into the mix and it couldn't be better.
Image credit: Annika Kafcaloudis
---