Let's Waffle N' Shake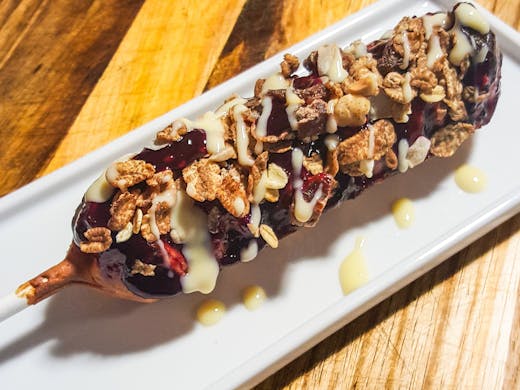 The Verdict
Any sweet tooth will attest that the logistics of eating a waffle on the go is a lot like attempting to eat your Nonna's spaghetti with chopsticks. One chopstick. A brilliant Melbourne, waffle-loving duo has the artery-clogging solution: Waffle Pops. Traditional crispy on-the-outside, chewy on-the-inside Belgium waffles are served on a stick and covered in 12 extravagantly sweet toppings.
Expect finger-licking combinations like unashamedly kiddie Floss The Pink Fairy with homemade rhubarb, rose water syrup, smallows, coconut flakes, silver pearls and Persian fairy floss. Other options include the Chocolate Party Rainbow (it's exactly what you think it is), the Salted Caramel Pop and the Sundae Nanna Split.
The Let's Waffle N' Shake food truck is also home to pimped up milkshakes. Clearly, this is adult-ing at its finest.
Image credit: Provided, Let's Waffle N' Shake
---