Lillie Espresso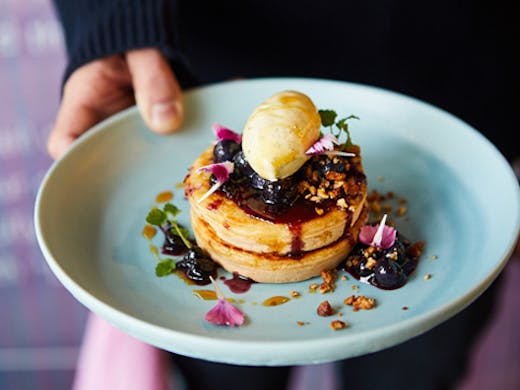 The Verdict
You can't fake a good cafe atmosphere. It's like an IQ test—you've either got it you don't. And whatever it IS that makes a cafe feel cosy, warm, homely, the Wilkinson crew's new venture Lillie has it by the scoop.
Lillie Espresso is a new health-kick brunch bar that's popped up on Chatham St in Prahran. It's a sweet spot—close enough to get that Chapel St buzz, but without too much high-class cafe competition.
You'll see the doors opening at the crack-of-dawn to grab the sweaty F45 crowd from across the road, or the (slightly less sweaty) yoga junkies from nearby Humming Puppy. Chia puddings by the cup, scoop-and-go salads, made fresh daily, plus a big range of fresh-squeezed juices and tonics (try the cucumber and mint soda—got a great zing). Everything a growing body needs.
But the takeaway counter is only half the story.
Like the group's other ventures (Grange Roadd Egg Shop and Denis The Menace) the menu at Lillie is smart and considered. These guys know that it doesn't pay to reinvent the wheel every time.
"We wanted this to be good, simple food. Something for everybody. The most important thing for us was assembling the right team. We actually had them cooking together in the weeks leading up to the opening, down at Grange Road."
The professionalism shows. You've got head chef Candy Poon running the pass, dishing up gorgeous stuff like coconut and vanilla granola with yogurt panna cotta, citrus gel and dried mandarins, or the seasonal av' with cherry tomato, Danish feta and chilli flakes, dusted with sesame and lime salt.
There's even a breakfast ramen on the cards. Poon tinkered with the broth for ages to get the smoky miso flavour just right—whack in some buckwheat noodles, a tea-smoked egg and big hunks of cured bacon, and you've got one hell of a winter bowl.
For us though, the standout has to be the crumpets. Hands down, the best sweet brekky we've eaten this year. Toasted Dr Marty's crumpets (half organic flour, half unicorn pixie dust), drizzled in blueberry compote, burnt honey, crushed walnuts and a quenelle of vanilla-spiked mascarpone. Oh my giddy aunt. These things are off the Richter Scale.
The final flourish? An aquaponic ecosystem that doubles as a breakfast bar. Here's how it works: the planter beds filter the water than runs into a huge fishtank, stocked with goldfish. The fish, in turn, fertilise the plants, and the water gets recycled. Zero waste, maximum taste. The kitchen grows mint, basil and a bunch of other herbs this way, right out in the dining room. Adds a nice touch of theatre to the venue.
Image credit: Michelle Jarni
---