Little Odessa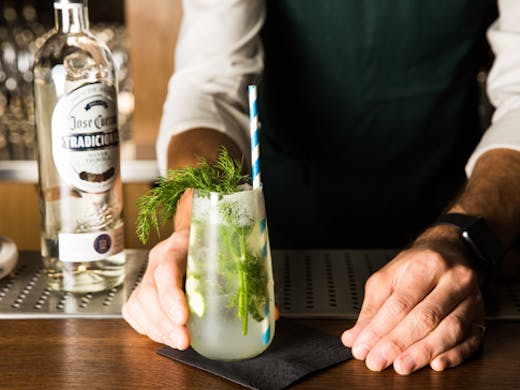 The Verdict
The first thing you need to know about Little Odessa—you won't find it from the front. It's actually tucked at the rear of Brunswick St, a little out-of-the-way European wine bar, specialising in Ukrainian food, natural wines and potent tequila cocktails.
It's the project of siblings Sofia and Stefan Soltys, whose parents are old hats on the Melbourne hospo scene (their Mum opened Cafe Paradiso way back in the 70s, and both parents were responsible for Rathdowne icon, The Paragon). The kids wanted to do something a little different though—a moody wine bar that showed off their Eastern European roots.
By going back to borscht, Stefan and Sofia have actually achieved the impossible: something new on Brunswick St. Seriously, if you're tired of the usual vino haunts, Little Odessa will shake things up pronto.
Let's start with the menu: a compact, punchy little beast, studded with gems like seared sardines with Hungarian lesco sauce, pan-fried asparagus with garlic crisps and beetroot knoephla (just point—you've got no chance). Whatever you do, don't miss head chef Nathan's George's Pierogi, which come in pork & apple or veggo-friendly potato & cheddar. We'd honestly just be happy with a wheelbarrow full of these.
For mains? It's got to be the braised veal shin with peppered mamaliga (think of it as Romanian porridge) and gooey goats cheese, although the dill & vodka salmon tartare with pickled cucumber and rye bread is also smashing. In fact you'll find dill sprinkled through a lot of dishes here.
The drinks list has a big focus on natural wines, with a surprising selection of bottled craft brews. Really though? If you're tucking into borscht and Pierogi in an Eastern European wine bar, you've gotta grab a schooner of Budvar to go with.
Little Odessa is open for dinner Wednesday to Friday, plus there's a lunch sitting on weekends.
Welcome to the neighbourhood, Little Odessa. Now don't ever leave us.
Image credit: Annika Kafcaloudis
---
You May Also Like
Food & Drink
Melbourne, VIC
Fans of flavour and seafood feasts, listen up. Louisiana-style Crawfish sensation,…