Lorne Ice Cream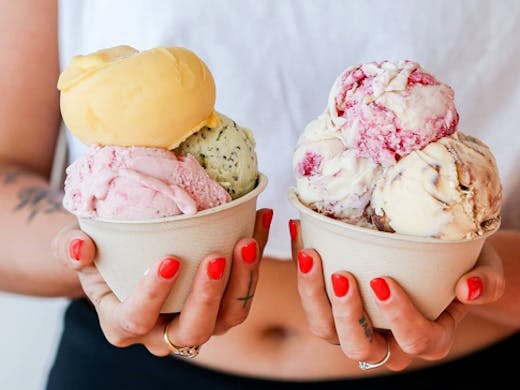 The Verdict
If you've ever driven through Lorne, the odds are good you've stopped for a burger at Bottle Of Milk. That place is like the Death Star for roadtrippers—once you're caught in the tractor beam, there's no pulling away.
Well now the guys from Bottle Of Milk have launched something new in Lorne—a kickass ice cream parlour, right on the main drag.
"People have been just calling it 'the ice cream shop'," says co-owner Rob Lowther. "For a while it was 'Milkbar Ice Cream', but now it's probably Lorne Ice Cream. That seems to fit."
It's hard to miss this thing on Mt Joy Parade. Chris Connell handled the design, painting giant orange stripes that run across the awnings, down the back wall, and all the way across the floor. It kind of screams 'ice cream parlour'.
"At the end of the day it's ice cream by the beach," says Rob. "We can't go too far wrong."
Rob might be underselling it a tad. This isn't just regular ice-cream. This is 40+ rotating flavours, made from the very best Apostle Whey milk in Corriemungle. Rob and co-owner Brett Graham (also behind Bottle Of Milk) both grew up on dairy farms—they know good milk when they drink it.
In fact, that family element runs pretty strong at Lorne Ice Cream. Rob's mum cooks up most of the ice cream flavours. She even bakes the choc brownies and cooks the butterscotch sauce. The guys are even making their own waffle cones from scratch, hand shaping them in-store with special heated rollers.
Need a cherry on top? There's a free-flowing Nutella fountain. A god-damned fountain, people.
One scoop will set you back $5, two scoops for $7 and three scoops for $9 ("Weirdly, no-one ever goes the three," Rob says.)
Lorne Ice Cream is open 7-days at the moment, but Rob says they might wind down when the weather turns bleak. Somehow we don't think a bit of drizzle is gonna slow down sales...
Image credit: The Edible Image
---