Lover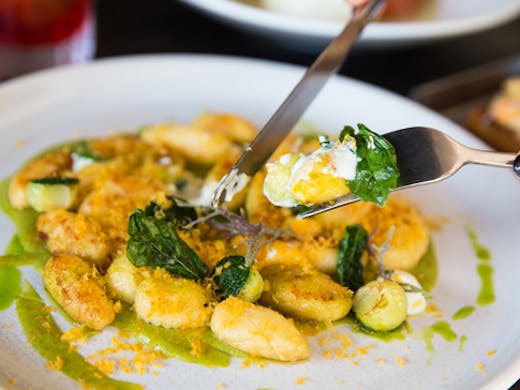 We're struggling to think of a bar launch that generated more social frenzy...
Lover might be the first bar in Melbourne to open and immediately play host to America's cult burger chain, In-N-Out. Half of Melbourne descended on Chapel St's new cocktail bar. True, most of them were there for Double Doubles, but the clever ones will have noticed: hang on, Uncommon has turned into something new.
Lover is one of those bars that hits the right note and then holds it perfectly. The corner site is gorgeous, the cocktails are on point, and there's a surprisingly robust food menu. It's a sort of restaurant-bar hybrid really. The classic double threat.
Just take a look at the food menu. Yeah you can swing by for a coconut and elderflower Margarita and a couple of rock oysters. But you can also settle in for a long sesh, with plates like smoked duck breast, beetroot and blood plums, or pan-fried gnocchi with zucchini, basil and grated cheese (one of our favourite veggo gnocchi right now).
Personally, we reckon it's best to order up a bunch of smaller shared plates. The burrata with heirloom tomatoes and basil is craaaaazy good, as is the retro prawn toast one Wonder Bread and topped with chorizo. The dessert menu will rotate depending on Head Chef Paul Turner's mood (ex Cutler & Co, Donovans).
You can grab wines by the glass or the bottle, and the cellar runs pretty deep. A solid mix of international labels and local drops from Heathcote, the Yarra Valley and Margaret River. Beer-drinker will love the dedicated tinnies and stubbies menu, and there's even Lick Peer ginger beer on tap.
All in all, Lover is exactly what you want in Windsor. Polished food and quality booze, without any South Yarra snobbery. (It helps that the crew are a team of wise-cracking, big-smiling legends).
Welcome to the neighbourhood, guys.
Image credit: Jenna Fahey-White
---