Low Key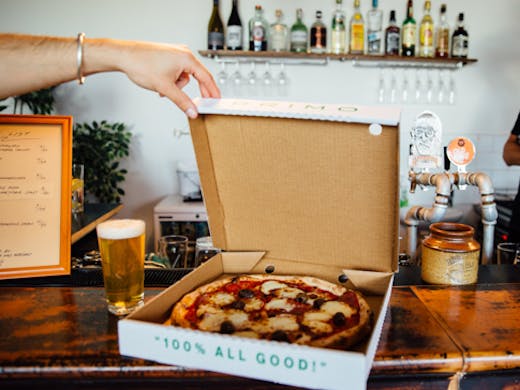 The Verdict
We try not to play favourites when it comes to bars, but it's hard not to fall in love with this place. Low Key is High St's newest watering hole. A super-chilled, laid-back beer bar that does neither cocktails nor bullsh*t.
While the rest of Melbourne is out there trying to reinvent the wheel, Low Key's owners Riccardo Rantino and Toby Marsh just decided to make the wheel as smooth and comfy as possible. That means good quality craft beers, a select little wine list, and a bar where you can just be. No-one's here to impress anybody. Low Key isn't a place to be seen or 'gram your pizza. If Melbourne had a Cheers, this would be it—a suburban gem where everybody knows your name.
Of course, charm is easy when you have a venue like this. Low Key was obviously an old Victorian residence at some point. The front has been converted into a bar space, but you can still walk down the old hallway, into the back room (complete with giant fireplace). The boys have converted the backyard into a cute, industrial beer garden. Lots of high tables, stools and timber. They throw barbecues out here on Sundays, sizzling sausages for charity (customers are encouraged to bring their pups along too).
The décor up at the bar is Northcote at its best. White-washed walls that give up halfway, peeling back to reveal the brickwork underneath. A couple of industrial pendant lights. Big ol' stag fern on the wall. The kind of chunky timber bar where you can stand and have a chinwag all night.
Beer-wise, there's a good mix of local craft favourites. At the moment the taps are pouring Moon Dog's 'Old Mate' pale ale and a Bruno Bitter from the legends at Bodriggy. Tecate fans will be happy to spot the tinnies in the fridge. The wine list comes courtesy of Samuel Pepys—a boutique mix of Yarra Valley pinot, Chardy from the Limestone Coast and French Rosé. Ric and Toby deliberately don't do cocktails, but you can grab basic mixes from behind the bar.
And for food? Well that's where local lads Primo Pizza come to the rescue. You can order takeaway pizzas like The Westgarth (roast peppers, confit tomato, zucchini, eggplant and goat's cheese) straight from the bar.
Honestly? It's places like this that make the word 'local' so special. BRB, we're moving to Northcote.
Image credit: Annika Kafcaloudis
---