Maap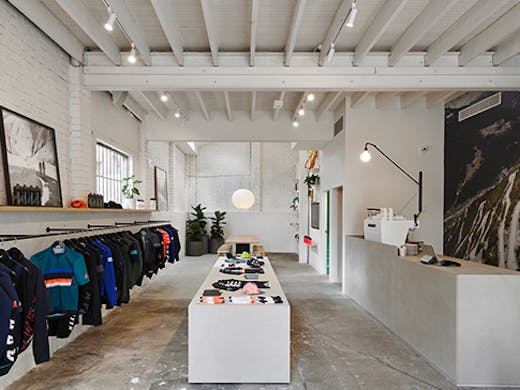 The Verdict
If you want to mix it with the lycra brigade on Beach Rd, you need to dress schmick. You need to look like you're about to lead the peloton up the Col du Soulor or some shit.
Well if looking cool on two wheels is your mission, there's a new emporium you should check out. It's called Maap. You might have heard of these guys before—they're a Melbourne-born cycling apparel brand that's slowly taking over the world.
This is their first ever bricks and mortar space in North Melbourne, and it's pretty ambitious. Not only can you swing by and pick up Pursuit Pro Jerseys, special edition collab helmets (the crew has joined forces with Giro, Bellroy and Suplest), socks, thermal bibs, vests, jackets and skin suits—you can also get a decent cuppa.
Yep, Maap has installed a Milan-built ROCKET coffee machine, stocked with Proud Mary beans and an in-house barista. They're even serving up Cobb's Lane Bakery treats. Just roll in, park your bike on one of the dedicated wall racks, and start chatting cycling gear with the wheel-nerds behind the counter.
One of those nerds will probably be Co-founder and Director Jarrad Smith.
"Since entering the market in 2014, we've been on the lookout for a suitable space that compliments the ethos of our brand, and the quality of our garments and accessories", says Smith.
Maap also runs group cycling sessions out of the store. You can check out upcoming events here (spoiler: everyone is kitted out to the max).
North Melbourne cyclists, pedal down and check this place out. Although, pro tip: maybe wait till after your 30km ride before smashing a large double shot latte.
Image credit: Maap
---