Mabu Mabu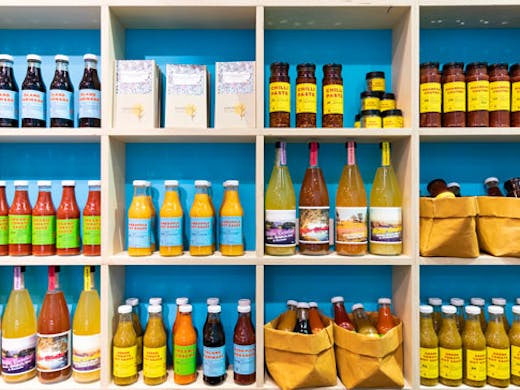 The Verdict
It's how Torres Strait islanders welcome people to a feast or banquet, and how they like to enjoy food: surrounded by the people they love.

Mabu Mabu is owned and run by Nornie Bero, who is originally from Mer Island (at the very top of the Great Barrier Reef) and has been a professional chef in Melbourne and London for nearly 20 years. At Mabu Mabu, she's bringing the generosity, hospitality, freshness and multiculturalism of the Torres Strait to Melbourne.
The Mabu Mabu market stall at the South Melbourne Markets is a refreshing and colourful haven of homemade, and freshly blended curry pastes, herb sauces, sweet spreads, and savoury dips. Their changing, seasonal selection covers a lot of ground: from thai green curry (with lemon myrtle and saltbrush), samphire pesto, Black hummus and bush tomato dukkah, to sweeter stuff like red pear, buffalo curd and coconut treacle, desert lime marmalade and hibiscus, blueberries, dragon fruit curd.
So whether you're looking for a more healthy alternative to all the supermarket bottled sauces, or want to try some different flavours, there's something at Mabu Mabu for even the pickiest palate.
Mabu Mabu wants people to see that they can easily incorporate the stunning flavour of native ingredients into everyday meals. Ask them about how to include any of their offerings into your meal and Nornie will quickly run you through an easy recipe you can follow, that'll leave you wanting to come back to try more.
Image credit: Mel Desa
---