Macq01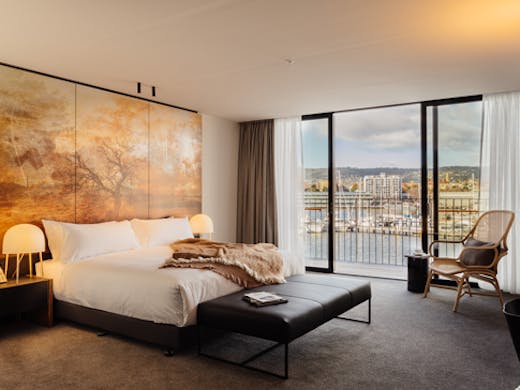 The Verdict

Usually, when it comes to booking a hotel, you're either looking for something OTT for a luxe stay or something that suits your (dwindling) budget.
But every now and then you come across a hotel that has something a little more, something that grabs your attention to the point where the price point isn't even thought about—Macq01 is exactly that kind of place.
Situated right on the waterfront in Hobart, Macq01 is a self-proclaimed "storytelling hotel". Every piece of the hotel has a narrative that talks to Tasmania, the architecture, interior design, the food & beverage offering, and, of course, the people that work there.
There are 114 rooms at Macq01, and each of the rooms is influenced by one of the 114 characters found around Tasmania, everyone from inventors to explorers, convicts, and sporting heroes.
For those who are a bit parched, you'll find the Story Bar which is the only bar in Hobart with a deck overlooking the water, and for the hungry you can easily find something delicious at the Old Wharf Restaurant which has been inspired by early Hobart industry such as whaling, shipping, farming, and mining.
Rooms at Macq01 range from $400 per night for the Hunter Room, to the Luxury Waterfront Suite for $1,400 a night—but obviously fluctuate due to the season.
Image credit: supplied
---