Maniax
CONTACT
Ph: 0420 849 280
Visit Website
19-21 Russell St
Abbotsford , 3067 VIC
Show on map
open
---
Opening Hours
| | |
| --- | --- |
| SUN | 9:00am - 9:00pm |
| MON | 9:00am - 10:00pm |
| TUE | 9:00am - 10:00pm |
| WED | 9:00am - 10:00pm |
| THU | 9:00am - 10:00pm |
| FRI | 9:00am - 10:00pm |
| SAT | 9:00am - 10:00pm |
---
The Details
Need to know
Specialises in
---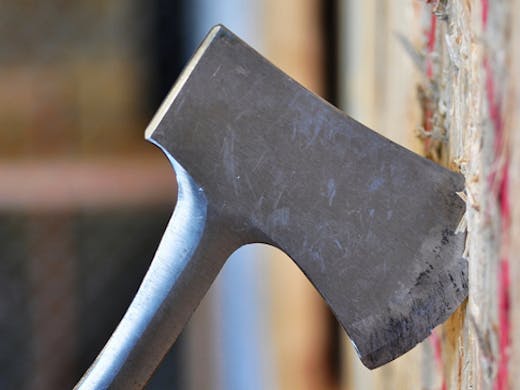 Coming Soon
We've got three words for you guys: urban axe throwing.
That's what's coming to Melbourne. An axe throwing studio where you can go and flick carefully weighted throwing axes at timber walls and feel like a total badass.
The place is called Maniax, and it's been running in Sydney for a little while. Co-founders Stephen and Alex finally decided Melbourne needs to vent some pent-up espresso steam and tried to set up Maniax in an Abbotsford warehouse. Long story short—it's really hard to get local developers to believe that you a) need all these razor-sharp axes for fun, and b) that a venue like this is safe. After a drawn-out VCAT battle, the boys are now free to throw axes as much as they want. And they're inviting you to get in on the fun.
The whole thing started a few years ago, when Stephen Thomas was living in Canada. Every Tuesday night there was an Urban Axe Throwing League in a dark Toronto alleyway (this sounds like David Fincher movie or something). People would get together, throw axes, talk about axes, listen to axe-related music etc. Stephen knew he had to bring this thing to Australia. And Maniax is the result.
Now, the big question, what exactly is urban axe throwing? Obviously you're not throwing the axes at eachother—there are big bullseye targets painted onto thick timber walls. The aim of the game is to throw your axe and hit the target. Maniax starts every session with coaching, target practice and a thorough safety briefing. Nervous nellies, don't worry—over 35,000 people have done this in Sydney, and there's been 0 accidents.
Maniax is available for all sorts of things—corporate axe throwing, birthday parties, buck's nights, family events (if you have a particularly aggressive family). The minimum group booking size is 8 people, but you can rock up solo (or in a small group) on limited dates each month. Keep an eye on Maniax's social channels to get all the up-to-date info.
Once the business is up and running, the boys will also be hosting League Nights and semi-regular axe throwing competitions. There's a sentence we never thought we'd be writing...
Ready to give it a crack? Maniax will be opening in Abbotsford on 24 March 2018.
Image credit: Maniax
---
You May Also Like
Beauty
Prahran, VIC
Located in Prahran between Greville and Chapel Streets, Sydney's…