Mary's Melbourne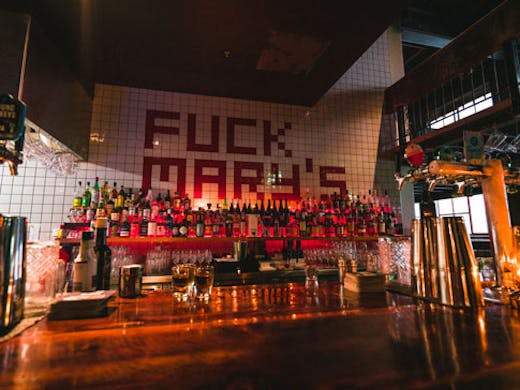 The Verdict
If you've ever been knocking about in Newtown with a 2042 local, there's a fair chance they'll have dragged you through an ominous steel door into Sydney institution known as Mary's. The Black Sabbath right-hooking you in the jaw as you walk in should jog your memory of the experience, as should their filthy-delicious burgers.
Well, after a pop-up several years back, a takeover at our very own Leonard's and a healthy dose of unconfirmed hype, Mary's finally has an outpost within the 3000.
The usual suspects such as the Cheeseburger, the Mary's Burger and The Chicken Burger make an appearance on the menu alongside several vegan counterparts, but there's also a couple of additions exclusive to Melbourne. Very Melbourne. Mary's, you'll fit in fine.
The new home on Franklin Street has room for you and all your mates. 60 odd seats down below, and 40 up top on the mezzanine. Though that's not the only reason you'll be reminded of their Newtown haunt, take a look at the wine list and you'll realise it's as unapologetic as what's on offer up in Sydney.
Mary's Melbourne is open from 4pm to 1am, Monday to Thursday, and 12pm to 1am from Friday to Sunday. Go get some.
Image credit: supplied
---