Mas Tamales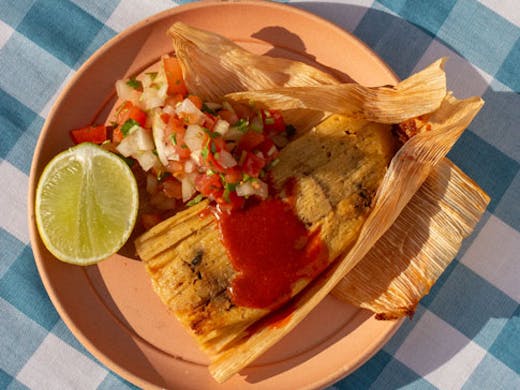 The Verdict
We've seen an array of amazing International cuisine hit the already stacked streets of Melbourne during 2020, and tamales is another that you need to get acquainted with.
Tamales as a Mesoamerican dish which usually feature a corn dough that's steamed in a corn husk or banana lead. The dough is generally filled with meats, cheeses, fruits, vegetables, chillies, or anything else that suits really.
Más Tamales—as the name may suggest—specialises in tamales.
"I wanted to honour the way tamales are made in Mexico, so making the masa or corn dough is a huge part of our cooking process." says Más Tamales founder, Etai Alves.
"This is a full 24-hour commitment of soaking and grinding corn from scratch."
Más Tamales features a simple menu with Carnitas (pork) as the meat option. The tamales are filled with slow-cooked pork shoulder, with Champiñones (mushrooms) filling the vegan and vegetarian versions.
The tamales are dairy and gluten-free.
"Ever since I moved to Australia with my partner seven years ago, I have wanted to start a Mexican restaurant. I missed the Mexican food I could get back in the States and this time in lockdown has given me the opportunity to start something up." said Alves.
Each tamale comes with a serve of their house-made pico de gallo and salsa roja. The perfect accompaniments.
Más Tamales offers free local delivery and is only open once a week on Friday from 12pm to 5pm. The tamales have become hot property, selling out each week.
Más Tamales delivers free to Fitzroy, Fitzroy North, Collingwood, Carlton, Carlton North, Parkville, East Melbourne, Brunswick, Brunswick East, Coburg, Northcote, Thornbury, Preston, Abbotsford, Clifton Hill, Fairfield, and Princess Hill.
Image credit: supplied
---