Matcha Maiden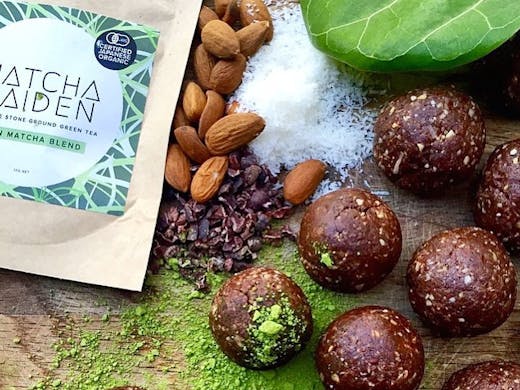 The Verdict
Move over, coffee, there's a new kid in town! Anyone who knows anything about the latest superfoods is talking matcha, the delicious organic green tea powder that's replacing coffee, cocoa and just about everything in lattes, smoothie bowls, healthy treats and more. Looking for the best matcha powder around? Matcha Maiden makes delicious organic green tea powder—aka. the latest superfood to hit Melbourne—sourced from the Uji region of Kyoto in Japan, and delivered direct to your doorstep, ready for use in tea, smoothies, raw treats, baked goods and more.
Sourcing only the best matcha green tea in the region, the Matcha Maiden team are our #1 go-to for organic matcha that is tasty and easy to cook with. Their Mix N Matcha green tea powder is packed full of antioxidants, making it a great metabolism boosting ingredient for a whole host of tasty drinks, snacks and dishes. You'll find all the latest recipe ideas, along with tips on how to use matcha, on their website right here.
As well as being delicious, Matcha Maiden organic matcha is wonderful for boosting energy levels, fighting off illness and improving your complexion. The green tea powder has been used for centuries within Japanese culture for its detoxification and rejuvenation properties—all characteristics that make it the perfect addition to any #cleaneating diet today.
But fear not! You're not going to have to trek Mount Fuji for epic organic matcha. Mix N Matcha green tea powder can be ordered online via Matcha Maiden, who will deliver it right to you. It's also incredibly affordable, meaning that you can afford to experiment with the green tea powder in your own creations. Matcha for the masses, hey? Whoever said that healthy living was hard?! Get ordering yours here.
We'd also recommend you check out Matcha Maiden on Facebook and Instagram, where they showcase the latest recipe creations. And if you want to be in the know about the latest deals on the best organic matcha powder around, get signed up to their mailing list below. Awesome green tea powder that comes with foodie inspiration? It's a matcha made in heaven!
Image credits: @romainefresh, @mrhubbardcafe, @topshop_au, @papaya_sunshine, @bellaandbhakti, @sjanaelise, @everydaysimplehealth, @aconsciouscollection
---