Matilda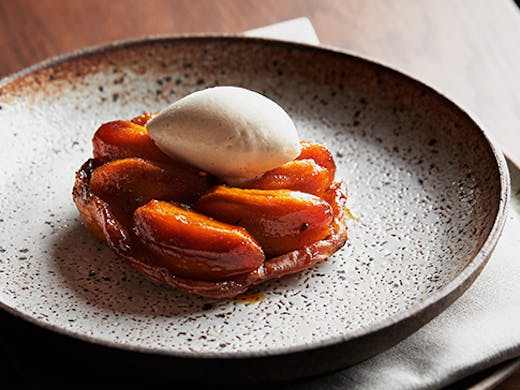 The Verdict
It's hot inside Scott Pickett's new restaurant on Domain Rd. Really hot. And not just in a Hansel-so-hot-right-now kind of way. You can feel the crackling heat licking off the two fire pits and the wood-fired Josper oven. This is Scott's first southside venture, and he's decided to go Old Testament: full smoke and brimstone.
From the outside, Matilda slots into Domain Rd like an old friend. There's an understated, olive green awning, a Banjo Patterson quote by the front door, and the uber-luxe United Places hotel directly above. South Yarra locals walk their Labradors out front, poking their heads in to see what's going on. "Are you guys new here? Wow, it looks amazing!"
And it is an amazing space. Matilda has a fire-spitting open kitchen up front (with four bar seats, if you're game for flame), an elegant restaurant down the back, an underground cocktail lounge (Oscar's Bar) and moody Blackwood function space (The Harrison Room). Matilda, Oscar and Harrisson are Scott's kids. "There's two boys and one girl," Scott says. "So she got top billing."
Matilda's restaurant is Australian at heart ("We were lucky Matilda's name has such a strong Australian connection," says Scott) but the big draw is gonna be the cooking method. There's no gas here: Scott and the team are using bug hunks of Ironbark, Cherry, Apple wood and even Pinot grapevines to smoke the hell out of pretty much everything.
The menu is built around meaty mains like whole John Dory topped with finger limes, saltbush and native grenobloise, 'Salt & pepper' Blackmore Wagyu bavette, and fired-up Macedon duck, with leatherwood honey and figs. Kangaroo tartare with fermented red peppers is so smooth you'd like it was A-Grade Tasmanian beef. There's also some delicate pickle plates (the beetroot is a work of art).
By the glass wine starts at $12 a glass, and there's a thoughtful mix of local and international vineyards. If you want to browse bottles, set aside a good 15 minutes—the cellar is very extensive. The guys at the bar are also slinging some easy-drinking cocktails too. Think blood orange vodka, vermouth and Amaretto ('Winter Daisy') or Canadian whisky muddled with maple syrup, Laphroaig and sherry ('Pickett & Co').
People will be waltzing into Matilda (sorry) in droves over the next few months, so make sure you book ahead on weekends. You can try your luck off the street—if there's a wait for a table, just head down to Oscar's.
Oh, one last tip (and this is gonna sound weird), Matilda has the most beautiful toilets we've ever seen. Honestly, it was all we could do not to Instagram while we were in there. No spoilers—you'll see what we mean.
Image credit: Griffin Simm
---