Meat Frankie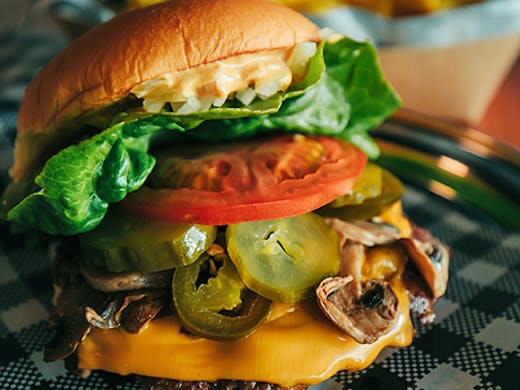 The Verdict
Don't you hate it when you buy a burger but all the toppings cost extra? Since when does a slice of tomato or some lettuce cost more than a gold coin? We're not having it, and neither is Meat Frankie, AKA, your new favourite burger joint in Brunswick East.
There's no skimping on the burger fillings at this place—their retro-style burgers are a meat lover's dream. The beef patties are melt-in-your-mouth good and you can stack them as high as you want—you read correctly. As. High. As. You. Want.
As for toppings, you can take your pick from lettuce, tomato, pickles, onions, jalapenos and grilled mushrooms. You can have them all if you want, they're all free. So basically, pick as many patties as you want, add as many toppings as you want—Meat Frankie is a genius.
They also do classic American hot dogs, crinkle-cut fries, cheesy bacon fries and classic diner-style shakes. No burger bar would be complete without sauces, so they've got classic ketchup, mustard, mayo and a special signature Frankie sauce. They're also serving up American beers including Coors, Pabst Blue Ribbon and Keg Beer on rotation.
Owner and chef Frank Scardamaglia (400 Gradi) is a self-confessed "burger fanatic". He travelled for two years in North America trying burgers across the continent. Now back in Melbourne, he's decided to go solo after working in hospo for more than a decade, and open his own homage to the classic American burger bars that he loves so much.
Open midday to 10pm from Wednesday to Sunday, it's about time you head to Lygon Street and Meat Frankie.
Image credit: supplied
---