Melbourne Cellar Door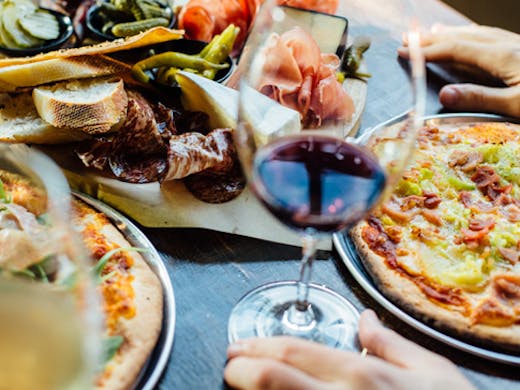 The Verdict
Say what you like about South Wharf, but it's moving in the right direction. This used to be the place you came for Jeff's Shed exhibitions, DFO shopping and ignoring the Polly Woodside.
Now it's one of the tastiest knock-off locations in the city. When that Friday bell rings, every office worker on Southbank flees their cubical and heads for the river. And why now, with places like Melbourne Cellar Doors on the cards?
This is a new wine bar, craft beer parlour and wood-fired pizza lounge on South Wharf, just past The Boatbuilder's Yard. It's from the same guys behind The Valley Cellar Door in Moonee Ponds (when you stumble on a winning name, don't mess with it)—that means a wine cellar to rival Scrooge McDuck, 130 bottled beers to choose from, and rare cheese galore.
If wine is your thing, you'll love this place. Over 500 bottles line the dark timber shelves. You can peruse the collection from one of the clichéd Chesterfield leather sofas (best seat in the house). The focus is mostly on small, indie wine producers, both local and well-travelled. There's 8 craft beers on tap (set to rotate) and a meaty food menu to match.
Tired of same old same old when it comes to antipasto? Melbourne Cellar Door are slinging 'Aussie Platters'. That's emu and kangaroo salami (surprisingly delicious), Bresaola Wagyu (Score 9), vintage cheddar and blue cheese from rural VIC, pickled paw paw and Shiraz jam from the Barossa. Try getting that combo anywhere else.
On sunny afternoons, the outdoor tables will fill up quick-smart, but personally we love the vibe inside. It's cosy and unpretentious. Upmarket industrial gastro pub vibes—chunky group tables, upcycled timber bar, big leather sofas and wines on every wall.
The place doubles as an A-Grade bottle-o too. Swing by for a pizza, then snag a bottle of Heathcote Tellurian or Fianos from Unico Zelo.
Image credit: Annika Kafcaloudis
---