Melbourne Museum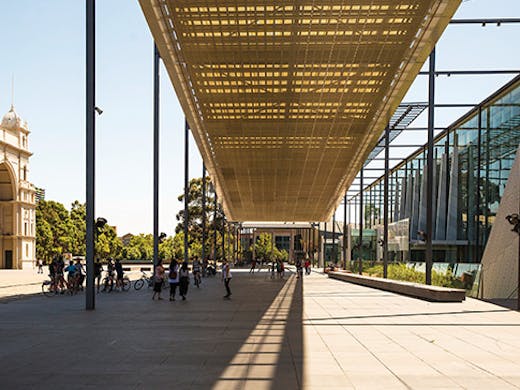 The Verdict
Ah, Melbourne Museum. You guys probably remember it as that place you used to get dragged along to for school excursions or uni assignments.
Well we're here to provide you with a little background on this contemporary architectural icon that has been a part of Melbourne culture for 18 years.
Melbourne Museum sits next to the Royal Exhibition Building at the centre of Carlton Gardens. The Museum opened its doors way back in 2000 as a project of the Victorian Government. Fun fact: it's now the largest museum in the Southern Hemisphere. Not a bad effort, Melbs.
Checking out Melbourne Museum means delving into the history and culture of Victoria. Now that might not sound like a rocking night out, but bear with us. Last year the Museum launched its Nocturnal series—nafter-dark, adults-only concerts that combined good tunes, lots of booze, plus after-hours access to certain exhibits. It was a massive hit.
In fact, they're back this Friday (3 July) with a special Nocturnal X Harlem party. Get jiggy to live performances from The Cook Island Drummers, Glitter & Snatch and MzRizk while you munch on some delicious southern food made by the guys from Gumbo Kitchen. Word on the street is there'll be a dance-off too, so bring your dancing shoes.
Of course, the regular exhibits are still weekend favourites for many local history buffs. Our pick is The Melbourne Story (an immersive display of what makes this city so damn awesome). The Museum also houses the race horse Phar Lap, a free discovery centre and the ever-popular IMAX Theatre.
There's always something new happening at Melbourne Museum, and it pays to keep one eye on their socials. At the moment, there's the freaking awesome Vikings: Beyond the Legend exhibition. Feast your eyes on more than 450 Viking artefacts including skeletal remains, swords dating from 700AD, and Thor's hammer.
You can also rely on the guys at Melbourne Museum to bring you intriguing permanent collections. Among the best are the Forest Gallery and the Science and Life Gallery. There's even a Children's Gallery where families can bring little ones up to the age of 5 to play and learn.
Treat yourself to a momento from the gift shop and grab a cake and a cup of coffee on your way out. That's your weekend outing sorted. #Cultured.
Oh yeah, and if you're looking for parking, we always have luck 'round the back, down Carlton St (or check Canning and Murchison). Usually you can snag a free street spot (unless Finders Keepers Market is taking over the REB)
Image credit: Visit Victoria
---