Men's Biz | Collins Square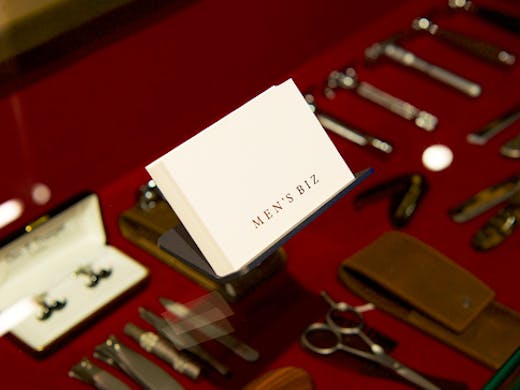 The Verdict
It's fair to say this isn't the sort of place you come for 'just a trim'. Boutique grooming salon Men'z Biz just opened new digs in Collins Square, and the space is looking damn fine.
Sit back and be prepared to get pampered. When you visit Men's Biz in Collins Square you'll get a cold craft beer or, for the early risers, a Masala Chai. Get your 007 on and throwback to the golden age of grooming. Someone fetch us a cigar.
Men's Biz has a crazy range of artisan products in stock. It's part of the reason for the brand's cult following. Owner Nathan Jancauskas has made it his mission to assemble the finest men's grooming apparel money can buy. You can even come here for a cut-throat shave, Sweeney Todd style (you know, without the murder). But feel free to try before you buy. Experiment with moisturisers and hair products at the testing stations.
Located in the heart of the city, the store's interior design is on-point. It takes inspo from traditional European barber stores, then adds a slick, modern edge. Sipping a cold beer and getting a hot towel shave...it's easy to imagine you're back in Europe.
Oh, you can also pre-book your appointment online, so no more stressing about long queues. Quality, convenience and just straight out cool. That's Men's Biz.
Image credit: Men's Biz
---